Cars are the most essential part of our lives. We adore reading and watching car stuff day and night, which also acts as a stress buster for us. We also love collecting magazine cutouts, diecast models and goodies related to cars. But the cars that have a special place in our hearts, we collect their posters and stick them on our bedroom walls to keep them close to us, so hopefully, one day, we can own or at least get a chance to drive them. And, here are 5 such modern classics to glow your bedroom walls up.
Pagani Zonda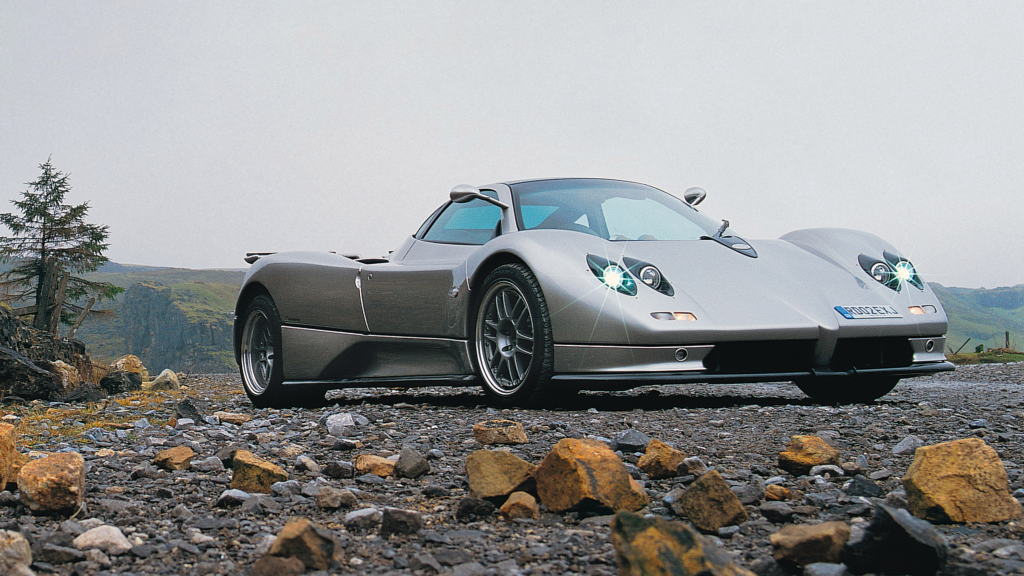 Enzo Ferrari's disrespect to Ferruccio Lamborghini led to the birth of a new Italian supercar brand. Then, in the early 80s, Lamborghini ditched the Idea of one of their sweepers, named Horacio Pagani, who was obsessed with carbon fibre and art and wanted to create Countach out of Carbon fibre. But that didn't stop Horacio from creating one of those brands, which produces the most beautiful cars on the planet Earth. Combining carbon fibre with art by taking inspiration from Leonardo da Vinci, he successfully created his first masterpiece in the form of the Zonda C12, which was a true example of moving art because every single line and every single design detail on the C12 looked like a piece of art.
On one side Pagani had created their first masterpiece of a car but on the other hand, they had no expertise in building engines, so they partnered up with Mercedes-Benz, who gave Pagani the 6.0L M120 naturally aspirated V12, the same V12 which powered the Mercedes W140 S-class, which as standard produced 400hp but for the Zonda C12 it was tuned to generate 444hp @5,200rpm and 640Nm of peak torque @4,200rpm paired with a 5-speed manual transmission, which transfer the power to the rear wheels and had a top speed of 335kph and was able to reach from 0-100kph in 4.0 seconds. As per Lamborghinis and Ferraris of the early 2000s, the Zonda C12 was the least powerful but because it was made out of carbon fibre, it was light and agile in nature.
Lamborghini Murciélago
When it comes to poster cars, Lamborghini Countach and Diablo were the most popular poster cars from the era of the 70s and 90s, which we enthusiasts loved because of their sharp and bold design language. And, when Lamborghini came up with Murciélago in 2001, as a spiritual successor to the Countach and the Diablo, it became the new favourite Lamborghini poster car from the get-go because with enhanced looks and increase in boldness in the design with design touches borrowed from the Countach and the Diablo, made Murciélago look ageless.
Lamborghini has launched Murciélago in 7 different versions with different power outputs, but every version was powered with a 6.2L naturally aspirated V12. But here, as we are specifically talking about the OG Murciélago, it produced 572hp @7,500rpm and 650Nm of peak torque @5,400rpm, the power was transferred to all 4-wheels via a 6-speed gated manual or a 6-speed automated manual transmission. The top speed of the 2001 Murciélago was 333kph and was able to do 0-100kph in 3.8 seconds.
Porsche Carrera GT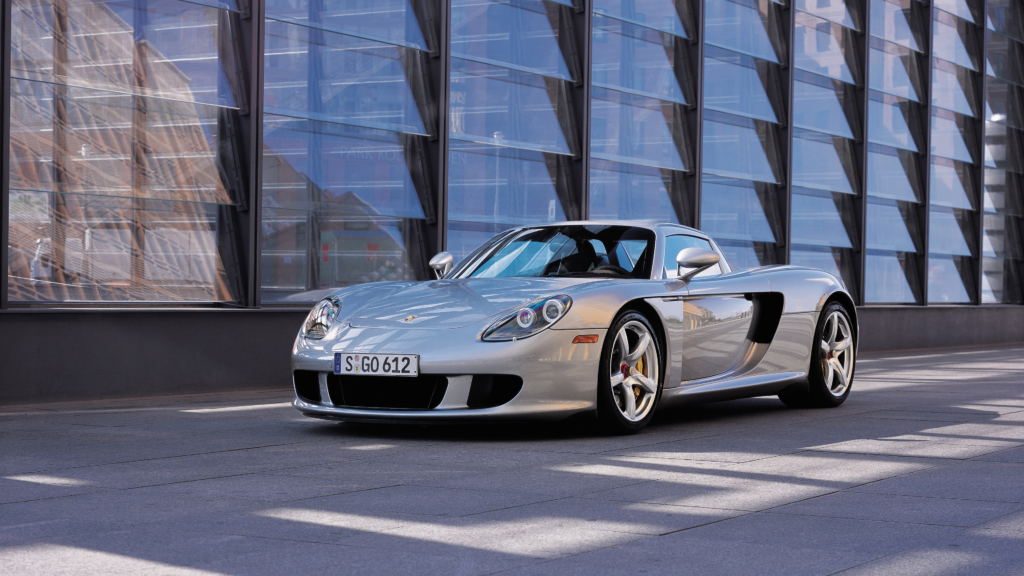 A Porsche with a stick shift will make you grin ear to ear, but if that Porsche is a 5.7L naturally aspirated V10-powered Carrea GT, then that soft grin will turn into an evil smile in a fraction of a second because that 5.7L V10 is a motorsport-derived engine developed by Footwork Arrows F1 Team, which produced 603hp @8,000rpm and 591Nm @5,750rpm of peak torque, all the power gone to the rear wheels via a 6-speed manual transmission, which resulted a 0-100kph time of less than 3.9 seconds. Not only it was fast but also was one of the most engaging manual transmission supercars ever made. Porsche wanted to make 1,500 units of the Carrera GT but was only able to sell 1,270 units.
Being one of the fastest manual supercars on earth, the Carrera GT had striking and timeless looks, considering the fact that it came in 2004. The Carrera GT was a roadster filled with curves carved with perfection and precision by Porsche designers. The front design resembled the face of a snake, and the front bumper looked like the teeth of the snake whereas, the side profile looked elegant with motorsport-derived 5-spoke centre lock wheels, and the rear design looked drooling with the twin exhaust system and automatic rear spoiler added drama to the mix.
Maserati MC12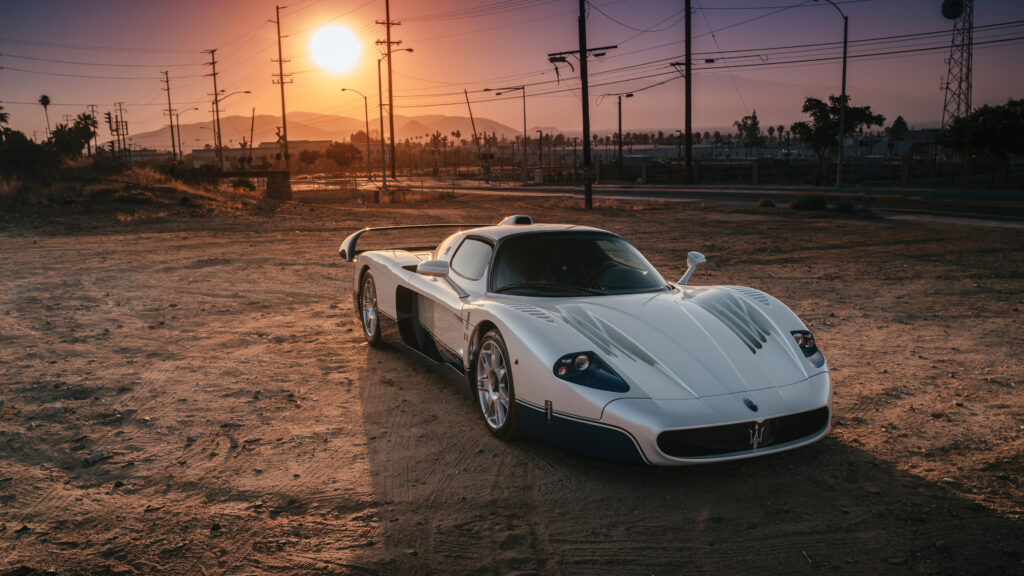 Ferrari Enzo was one of the staggering and distinctive looking Ferraris designed by Pininfarina. And as every early 2000s supercar, it was inspired by Formula 1. But at that time, Maserati also wanted to taste the supercar pie, so 2 years down the line after the Enzo was launched, in 2004, Maserati came up with the MC12, which was the homologation of its motorsport sibling, the MC12 GT1, which was based on the same platform as the Enzo. And, only 50 were produced, making it even rarer than the Ferrari Enzo, which was limited to 400 units.
Talking about the design, the MC12 was an elegant yet racy and aerodynamic targa top racecar for the road, whereas the Enzo had a sharp and slightly edgier Formula 1 inspired design, in terms of length, the MC12 was a foot longer than the Enzo because it is a homologation model of a racecar, so to increase its aerodynamic efficiency, Maserati made it longer with a giant rear wing at the back. Powering the MC12 was the same 6.0L naturally aspirated V12 from the Enzo, pushing out 621hp @7,500rpm and 652Nm of peak torque @5,500rpm, power was sent to the rear wheels via a 6-speed automated manual transmission. It had a top speed of 330kph and 0-100kph was achieved in 3.8 seconds.
Aston Martin One-77
The Aston Martin One-77 is a limited-run Aston Martin model, limited to only 77 units. And, like every other Aston Martin, it has the elegant and sensual design language but still looks a bit different than the other models in the lineup because of the beefed-up front facia with vents indulged with the headlights, from the side, it has got typical Aston Martin silhouette, but from the rear, it has connected taillights and an automatic rear spoiler.
But underneath that elegant Aston Martin Body is a naturally aspirated V12, whose capacity is increased from 6.0L to 7.3L, pushing out 750hp @7,500 rpm and 750Nm of peak torque @5,000rpm, the power goes to the rear wheels via a 6-speed automated manual gearbox, with that Aston Martin also offered a 6-speed gated manual and a 5-speed automatic as an option as well. The One-77 can hit a top speed of 349kph and can do 0-100kph in 3.5 seconds. The One-77 was the first Aston Martin to be built on a carbon fibre monocoque structure, with adjustable suspension and a carbon fibre engine bay.