'A moustache moves a man towards assertiveness," said Dr Oldstone-Moore, a reputed lecturer holding a PhD in the context of how the presence of a moustache made men confident and proud. Moustaches are apparently scientifically proven to give men a sense of elation and superiority. There has been a time in British history when the Moustache was considered to be a sign of royalty and a status symbol. In fact, between 1860 and 1916, it was deemed illegal for a soldier in the British Army to shave his moustache. A strip of unshaven hair right between the nose and the upper lip of the mouth gave the soldier more confidence and courage than the infantry rifle he was holding along. An immaterial construct created a mental perception of confidence and self-esteem. Isn't that why individuals in 2022 buy Crossovers and SUVs? And if all these people are buying Crossovers and SUVs, why is Volkswagen even bothering to offer a sedan? Haven't they learnt anything at all from British History?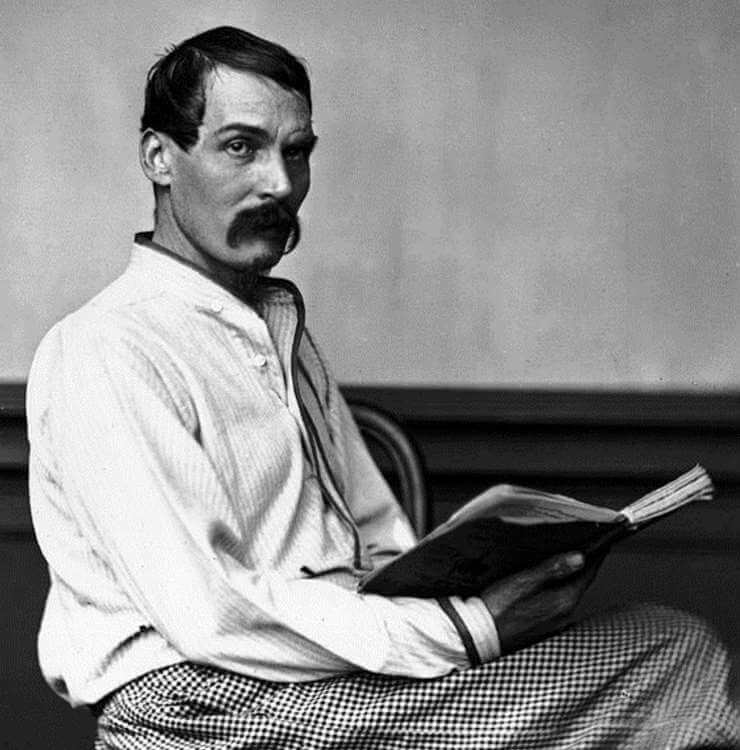 Confidence or not, an SUV certainly embosses a stamp of Luxury. Back in the age when our parents were busy paragliding through the mountains to reach their school, the length of a car was seen as a sign of wealth. That has now evolved vertically to display height and bulk as a true sign of luxury. And with enough body cladding and heightened shoulder lines, this luxury is now accessible to the honest working classes. And with a market that occupies 40% of all automobile sales, why does Volkswagen still bet its cards on a sedan?
Volkswagen is a brand that predominantly pioneered the hatchback and saloon formula for years. Their cars have always defined the segment they participate in. The Golf and the Jetta being the chief among those are synonymous with their respective body styles. Such success hasn't been seen in any SUV with a VW badge on it. The Touareg was a 'Road not taken' philosopher's Cayenne alternative and the Atlas was a vehicle for a person who, for some reason doesn't want a Jeep Wagoneer, a Ford Expedition, a Chevy Tahoe or even a Toyota Sequoia and that person doesn't seem to exist. The Tiguan, although a great sales performer, is a Golf that got itself a job as an investment banker and settled in the suburbs. Unfortunately for them, money is where the market is and Volkswagen had to respond to the SUV/Crossover demand in India with compelling products. The Tiguan was too premium a product and they just can't let Hyundai and Co run with rings around a market that's conveniently called the Creta segment. The answer? MQB A0 IN, a platform built specifically to cater to an Indian consumer.
Their formula seemed to have worked and to a good extent as the Kushaq and the Taigun have been decently successful in grabbing a slice of the 15-20 lakh SUV market. Decent sales yes, but not enough to play all their cards on just the two products. The Virtus then is a tribute to its roots, keeping the sedan/saloon tradition afloat. It's an attempt to diversify themselves from the monotony of the market and stamp their presence back as makers of german sedans. And to their credit, they've been smart with what the Virtus offers.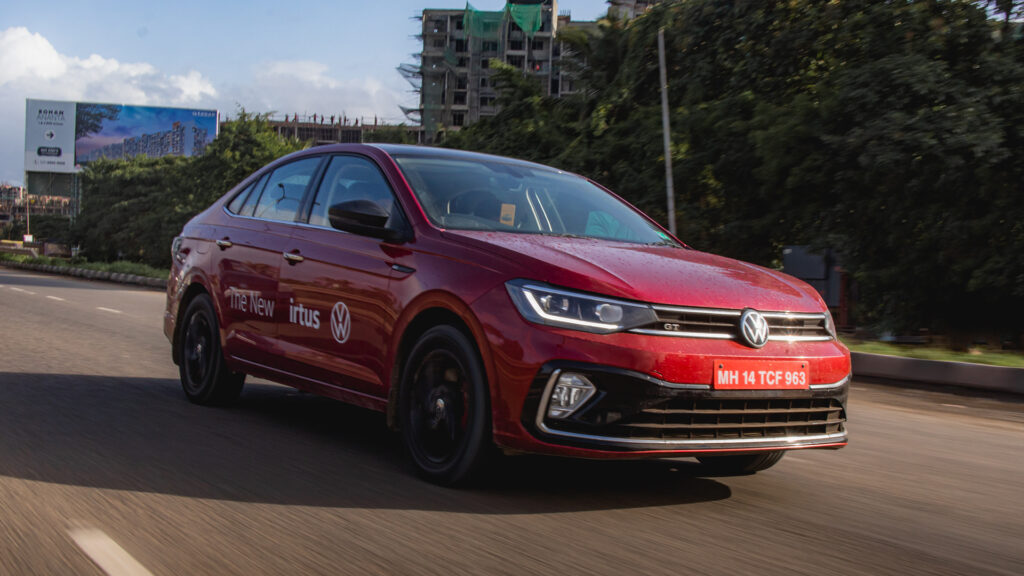 Remember the Volvo S60 Cross Country? The obscure midsize luxury sedan with body claddings, AWD and raised ground clearance. While it might cause Volvo service executives to stutter when they witness one, it was, in my mind, the car to do it all. It's an S60 that wore a pair of woodlands on a weekend, retaining the driving dynamics of a sedan with a touch of SUV toughness.
What if you try that the other way? What if the crossover could become a sedan?
The Virtus is the answer to that very question that no one previously asked. It's a car that manages to look and feel like a 3-box sedan while carrying over most things practical about a crossover.
One glance at its shoulder line and you know something's off with it. The height between the top of the front wheel arch and its bonnet is an instant giveaway. The front end with its Jetta GLI-like bumpers is standard VW styling template and are they sure the taillights don't share its part number with the Jetta?
The side profile is where its Crossover under its Sedan clothing truly shines. The wheel arches have enough space in them to accommodate a middle-class Mumbai home's wardrobe and the ground clearance will shame every crossover. And unsurprisingly, it drives like one too.
It doesn't drive like a grounds-up designed sedan, in that, the centre of gravity feels evidently higher. While the seats go really low, the dashboard sill is set really high, impairing your frontal visibility almost entirely at its lowest height. And once you do end up sitting higher and ease the car into a corner, you essentially end up driving a Taigun at its core. The Front end seems eager but is then followed by a roll of its mass. The suspension is on the softer side and has a hint of wallow. There's also a noticeable mismatch of its rear suspension, which is set way softer, to its front. The rear end responds after a noticeable period when the front end is laboured into a corner. That's a shame because the front end seems pretty agile, sprightly and dare I say, light. The Chassis seems stiff but its damping will never let you know that. The Goodyear Assurance tyres on it aren't helping its case either. High-speed stability is impressive but it does waft a bit at crests. The pros to all that handling compromise are that the Virtus benefits from an amazing ride. The dampers iron out most impacts, even the harsher ones. It feels completely uncharacteristic for a VW to have such qualities when previous VWs had a stiffer and more mature ride. Playing out of character is the general theme with the Virtus and the rest of the cars that use this platform.
I have to emphasize the IN part of MQB A0 IN. It represents India and the focus couldn't be clearer. Unlike the A0 platform abroad, the IN loses the central gear tunnel in the rear which usually robs a great deal of legroom in the footwell, so no AWD, which is fair considering our market never needed it. Focus is rather laid on matters of greater importance. There's now a great big touchscreen in the centre console with every feature one needs and the instrument cluster goes digital too. The Vento looks like an Albanian jail cell in front of these newer VWs with all their tech. What Albanian jail cells also manage to give is a sense of impenetrability and toughness, which older Volkswagens did. All these tech additions have given way to an interior in the Virtus that feels like those too good to be true 50$ Breitling watches from Vietnam. Rough edges, hard plastics, flexing and a true sense of cost-cutting and cheapness. You can even notice the rough edges of its plastic moulding on some beige plastics. If you blindfolded me and told me to identify the manufacturer based on the interior, I could name five other manufacturers before I mention Volkswagen. If you are used to older VWs, this will be a massive letdown. I'm sure these will stand the test of time but it has swayed away from the ethos of the brand.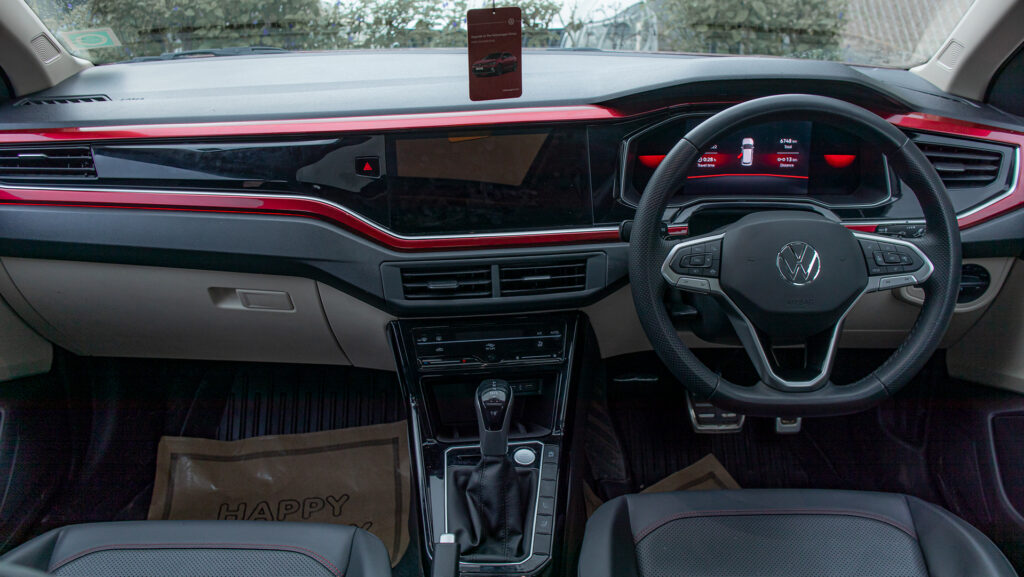 If it makes things better, the infotainment screen and its interface are probably the best of any car around that price range. Responds very well and is easy to use. I can't really say that about its climate control which is now entirely touch-operated. It's impossible to operate it without looking at it and since it's so low in the dash, you have to take your eyes off the road and it's a nightmare to live with. And given the velvet smooth roads our governments have laid for us, good luck sliding your fingers across the panel to get that perfect blower speed.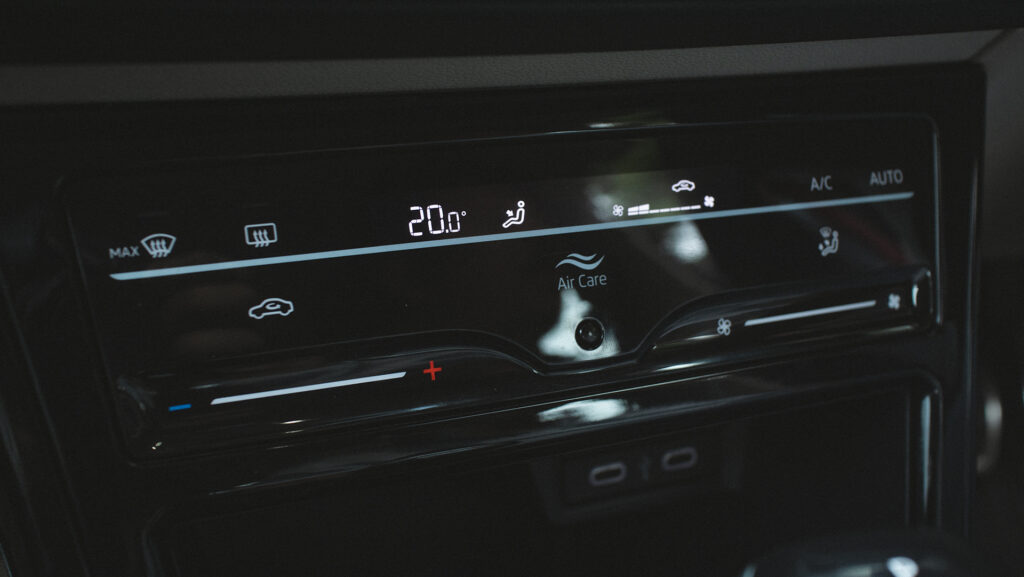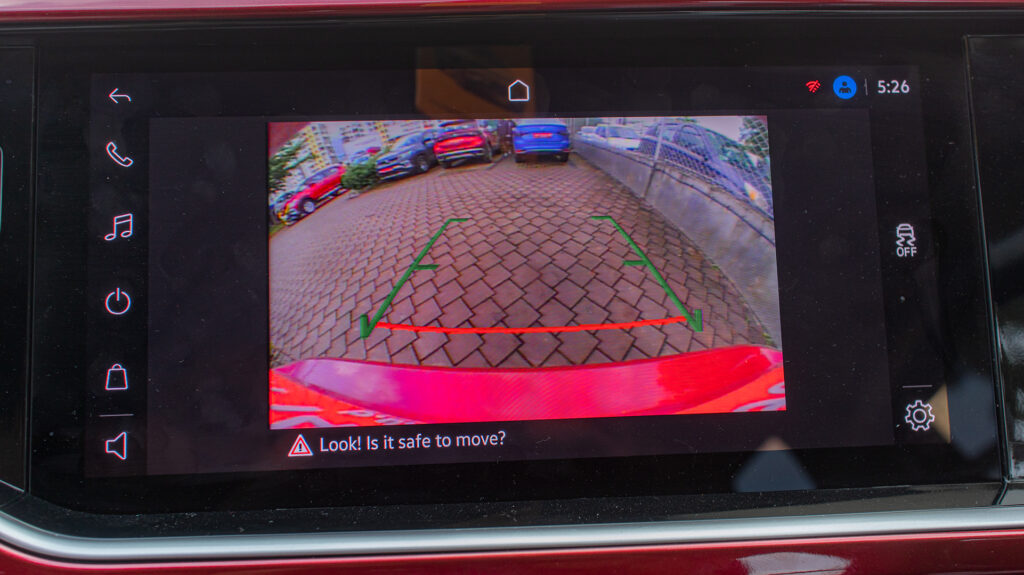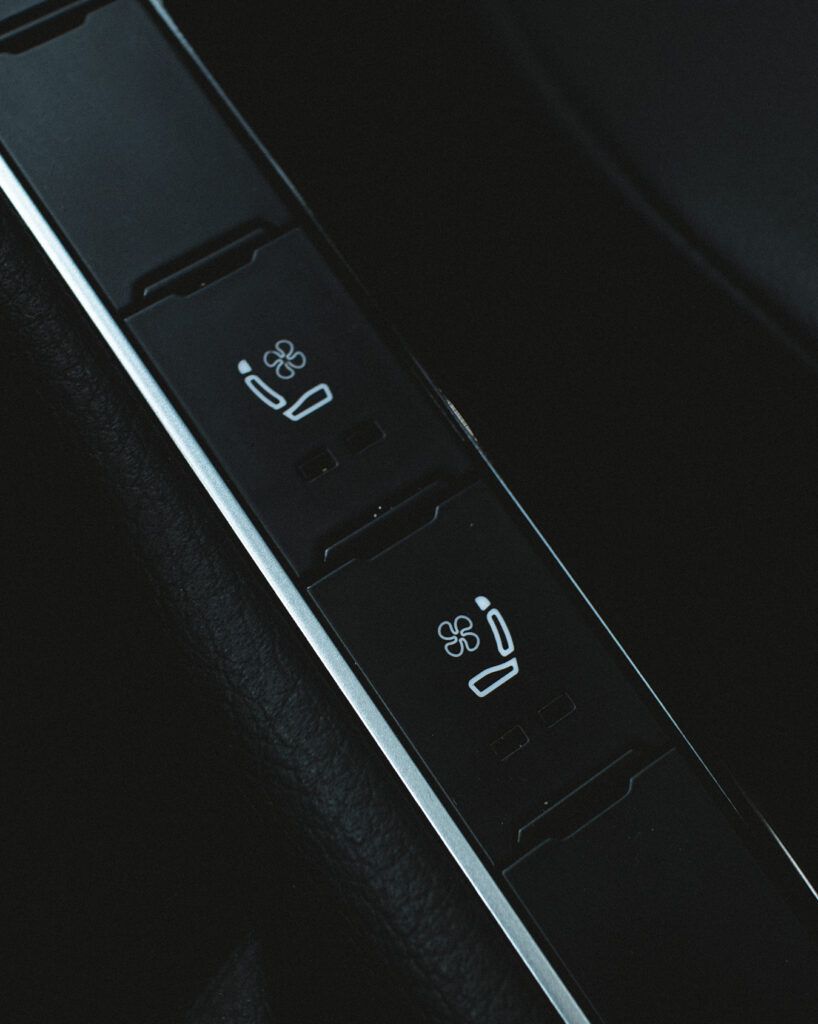 These niggles do hamper an otherwise nice interior travel experience. The cabin is again, uncharacteristic in its generosity of space, which is also a mark of luxury. Great big windows, surprisingly great leg room in the rear and thanks to its crossover roots, great headroom. This is a great car for the rear-seat passenger. The plush ride only elevates the experience further. The ingress and egress will make you forget about any SUV and the seat is really accessible for senior citizens. But the seats themselves, I'm a bit critical. Rears seem perfectly fine but the fronts, not so much. The bolsters are really hard and the seat base seems inspired by a museum bench. It was adequate comfortable in my time with it but my focus was least spent on seat cushioning and more on the powerhouse in front of the firewall.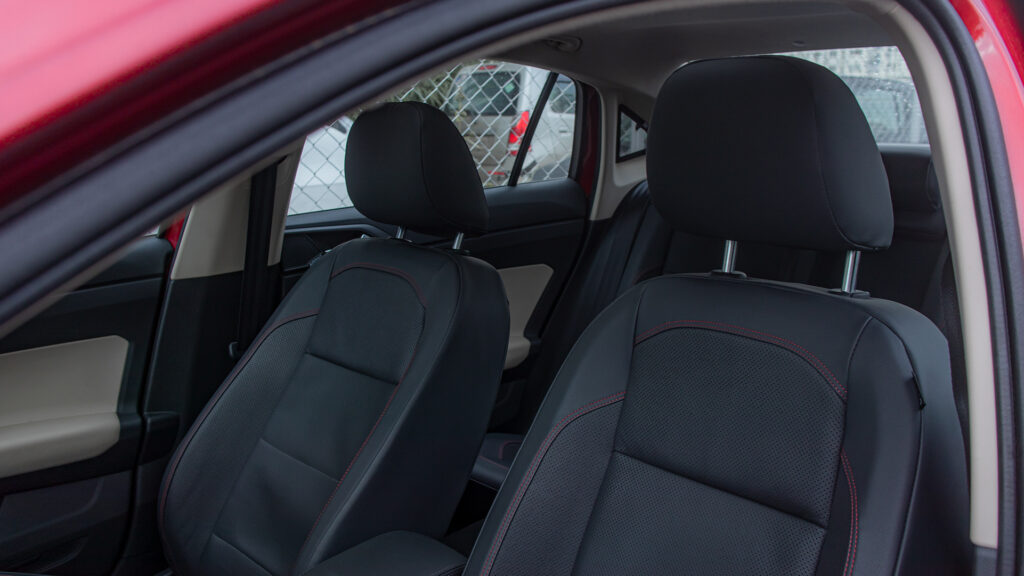 And what a powerhouse it indeed is. This 1.5 TSI has the legs to be a big cash cow for every tuning firm that consists of a guy with a laptop. In its stock form, the 150 hp it pushes out is plenty abundant. It pulls, pulls and pulls. It manages to propel the Virtus to illegal speeds in a jiffy. And because there's no foreplay with turbo lag, the power is everywhere. The powerband is linear but builds up progressively. It remains pretty rev-happy and sounds good at higher RPMs. It even had enough legs to keep going until 6000 rpm. Its refinement is particularly impressive and manages to deactivate its cylinders during cruising without hinting at the driver of its functioning. Not many cars in this price range will have an answer to Virtus's straight-line performance. And to tame all that performance to a standstill, the Virtus has enough might in its brakes. Great brake feel and calibration is an added bonus. As long as the inclusion of drum brakes in the rear (in this day and age) doesn't cause a disturbance in that one corner of your mind, you can trust them to do wonders.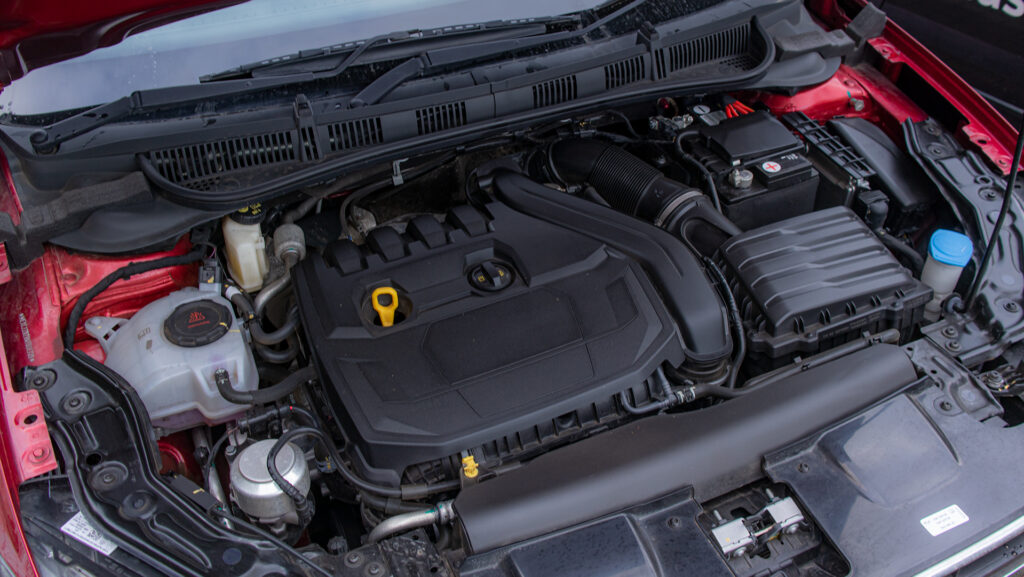 As impressive as the engine is, the gearbox doesn't quite match the engine's enthusiasm. That comes as a shock to me as having experienced the DQ200 7-Speed DSG extensively. When it works, the DQ200 is an engaging gearbox that managed to mask the limitations of a mediocre 1.2 of the Polo GT TSI. It's an impressive piece of equipment in isolation, so what's the catch here? The problem here lies in the way they've calibrated it to work in the Virtus. It gives you an impression of being dulled down to prolong its life, taking away its USP. The shifts are duller and there's a delay in their action. Switch over to manual mode, the situation remains the same. There's a half-a-second delay in every paddle input and in auto, the gearbox is a kidnapped man at gunpoint trying to choose the right gear at lower speeds to save himself.
But all is forgiven when you slot the shifter to sport because they really mean every letter of it. Dials become red and the car is now blowing steam off its nose in anger. It doesn't bless you with additional power, no, but the powertrain is now shown a bright red piece of cloth and told to run at it. Every shift feels razor sharp when driven in manual and holds onto lower gears for longer in auto-mode. The throttle sharpens up significantly and your adrenaline in the office commute is now unnecessarily high. Without even you realizing it, it manages to put your brain in sport mode and you slam every door in your office, crush every paper glass at the water cooler and you'll want everything on your table, YESTERDAY. Every email off your laptop will now end with ASAP instead of 'Yours Truly' and you're never calm for the day.
The only thing trying to blow off your steam amongst all this rage is the Virtus's steering, which with its lightness and softness, attempts to soak you in an ice bath up in the Himalayas. Light, smooth, easy and relaxing. It's what you need in tight traffic but begs for more weight everywhere else. The weight buildup is also not progressive. More accurate weight would have made this a great steering as it's pretty direct and precise. The lack of feel and feedback is made up by its front end, which responds perfectly to the steering input. The steering wheel itself is really lovely, with its perforated leather and thanks to one logical person in the VW committee, has great physical buttons.
With all these different elements I'm feeling, I'm slowly starting to get a picture of the car. To complete the experience, I had a brief drive of a manual variant of the Virtus with the 1.0 Three-Cylinder TSI. Five minutes into driving, I was relieved the 1.5 GT doesn't get one. It's a truly underwhelming attempt at offering one. It's by far the worst shifting experience of any new car on offer today and I don't believe this was unique to the car I drove. Every shift feels like slicing right through a Lego set. I've had better experiences with shopping mall arcade game simulators. And if that wasn't bad enough, the clutch action made me doubt if there was something connected to it at all. It's one single compression all the way without any variation in stiffness. I'll cover the 1.0 in detail in my upcoming review of the Kushaq 1.0 TSI but to give you a brief, the 1.0 TSI is more potent than you might think.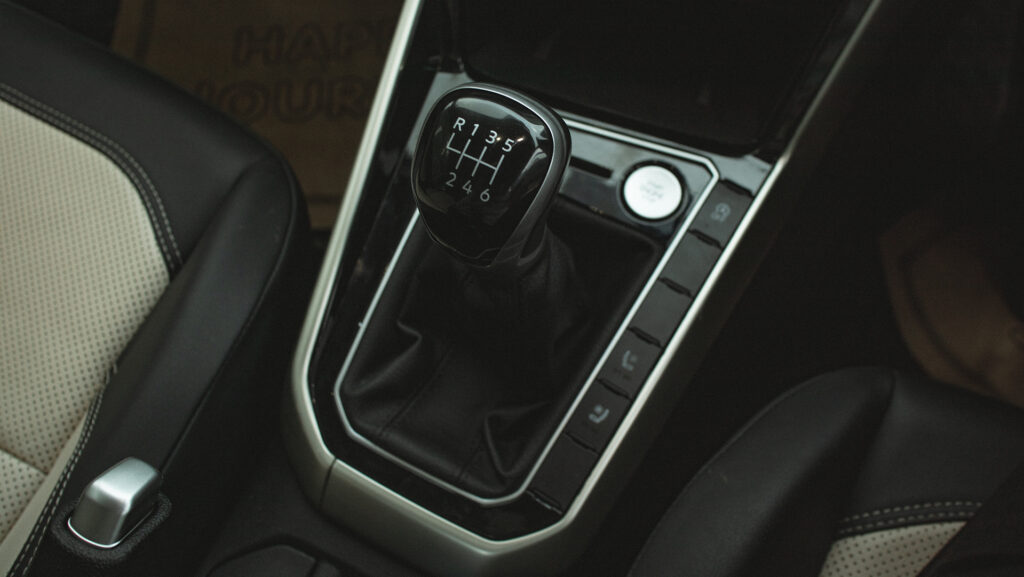 The Virtus with all its elements is a package that hits all the right marks. It's not absurd to draw comparisons to the S60 Cross Country as both have similar philosophies. In an age of body claddings, roof rails and anything remotely tall given an SUV tag, the Virtus is a sedan with all the right intentions. It's a perfect bridge between a crossover and a sedan and carries both their genes. It's a product that's more compelling than its hatchback-wearing-trekking-gear sibling, the Taigun and I don't see how it's any less practical.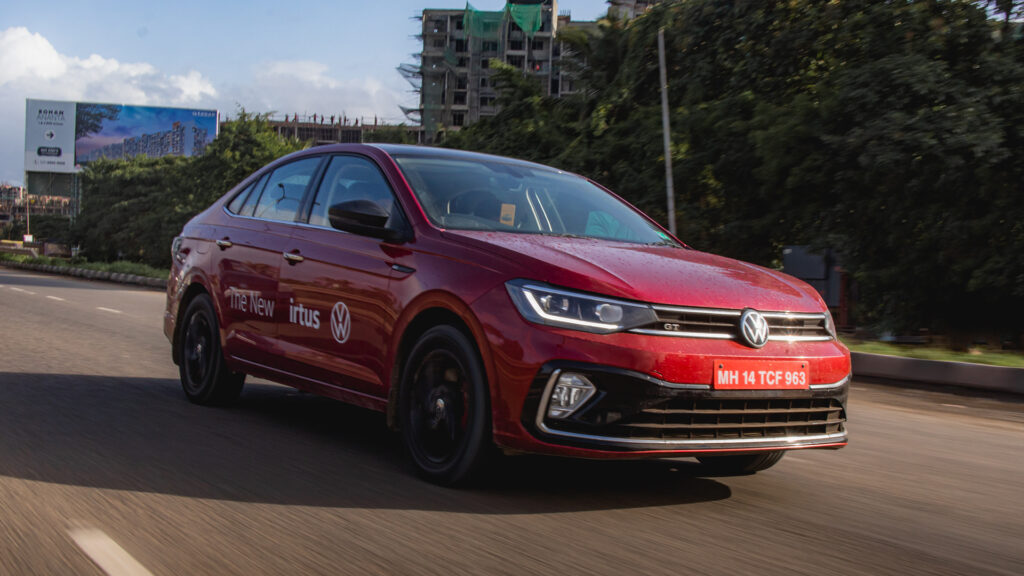 I haven't seen a product trying to nail such a wide range of customers and be successful at it. It's a very targeted approach to providing what consumers seek and selling the right amount of the company's soul in making that cost-effective and profitable. It has space, comfort, features, looks and performance, leaving some room for driving pleasure and potential for you to figure out. And since this is allegedly a responsible consumer report, my suggestion is for you to enjoy all its bells and whistles until that one unfortunate day it'll wipe your bank account clean. DQ200, I'm looking at you. But until that day, there's enough substance in a Virtus to fade that thought away completely. Thank you, Volkswagen for sticking to your guns, and I can't wait to have my Instagram feed loaded with lowered Stage-infinity tuned Virtuses.