Chinese EV Giant BYD or Build Your Dreams have shown an intention to enter the Indian Automotive Market with their latest and greatest creation: Seal. Not the animal, the Car. A quick look at the spec sheet will show you that the head stat is that this thing produces 700km of range. That's insanely good. Another insanely good figure is the drag coefficient of 0.242 which is super impressive as a Tesla Model X has a higher drag coefficient which without getting into details, tells you that how flowy the car really is. This flowiness helps in the car delivering power efficiently and does loads in reducing the almighty problem that bugs every EV owner, Range Anxiety.
The best of Shenzen is powered with a Dual Motor putting 522hp and 670nm of torque. This can propel the thing from 0 to 100 in a staggering 3.8 second. Mind you the curb weight of the top of the line is 2,150kg. That's incredibly heavy car and to deliver a sub 4 second car is no joke. Even better, the seal also gets equal weight distribution. Naturally not everyone would buy the dual motor so there is also a single motor engine which will come with 204hp. The different engine sizes are 82.5 kWh and 61.4 kWh respectively.
However, there is much more to a car than a spec sheet, contrary to popular EV fan belief. A car is a reflection of your personality and the seal is a very good car to define yours. The front looks extremely streamlined with no unnatural gouges or cuts. Everything at the front gives a vibe of purpose and ends up looking quite good. Now this car being Chinese, it obviously would've copied its styling ques. In this car, front looks a bit like Porsche Taycan which is a compliment and its definitely more a unique car then a typical Chinese car.
The rear has a clear lightbar which looks really good and reminds me more of an Aston Martin Superleggera than a Dodge Dart. And this styling looks a lot more unique than blatant copying. There are quite a few stylistic traits such as rear side window has a bit of chrome accenting to signify the oceanic theme BYD is trying to integrate. There is also aeroblades to channel air through the car in an efficient way and looks more functional than a fake vent.
If the exterior of the car needs to look good, the interior needs to look even better. But I am sure people would doubt a Chinese EV to be terrible with plastics and poor design choice. Think again as you maybe surprised if you peak inside it. Inside there is good use of leather as well diamond pattern stitching on the door panel.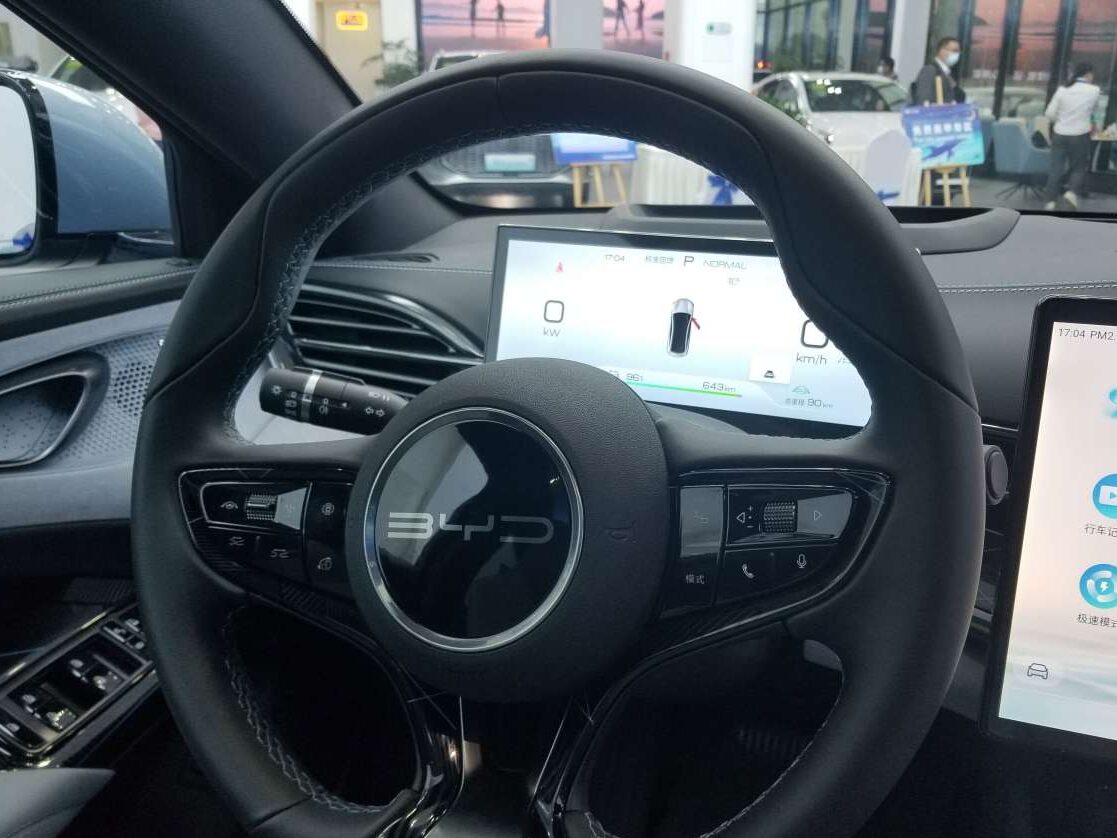 The steering wheel of the seal is the best part and it should echo ocean's waves or something but it's a really good passive aggressive design with some curves and well laid out buttons. With its Chinese underpinnings it has of course copied again the infotainment system which here has a floating design and ends up looking better than it should. Now yes there are some cheap plastic but most of it is soft touch material. Fancy singing a song, well, don't you worry as there is an integrated microphone which you can use if you fancy a karaoke session pumping through 700w dyn audio system. According to a lot of BYD Enthusiasts, the seal has the best backseat experience of them all be it the atto 3 or the dolphin. The rear is roomy and the seats have just the right amount of underthigh support to aid agress and egress. Overall, if it was a Tesla Rival in terms of interior, I would buy the seal as its more characteristic and has its unique touch to things and definitely justifies its luxury car badge and looks a lot less dull and full of a lot more exotic material. According to many, the seal has finally struck a balance and nowhere near as tryhard with the atto 3 with its guitar strings and other stuff. In terms of practicality, BYD maintains itself well with an extremely roomy 320 litres thanks to a 2920mm longer wheelbase. But we all know an EV maybe good on the inside and outside but its dull to drive. Well with the seal, that's the best part. Because of its cell to body infrastructure which I do have doubts about in regards to Right to Repair, it feels sporty. The ride is just enough harsh and with that instant torque it never feels under or overpowered. At least, according to the Europeans.

Final Thoughts? Mixed
Although there are a few negatives. This may not be totally related to the seal but they are worth asking. Ultimately, bottom line is this, India as a market has not fully adopted the expensive EV market. Especially considering the competition at the low level with the nexon EV or at the high end, Kia EV6 or Ioniq 5, BYD remains an unproven brand with no past record of reliability and after sales service, it remains a big question mark. Another thing is price tag and becoming successful in India. There have been a lot of brands successful in other countries but not in India. BYD being an upstart like Rivian or Lucid which took 5 to 6 years to deliver a product questions the legitimacy of delivering the cars on time or selling them in the first place. Sure It is a good idea as an independent EV maker but in India, they should have started with selling something that is 10 to 15 lakhs first and then building goodwill slowly and steadily. We have seen cars like Citroen c5 which is 40+ lakh car with FWD and it has not faired very well. Also, there will be stiff competition at the used car end with used BMW, Audi and Mercedes Benz and the question of whether used car buyers would cross shop with the BYD. All these are questions which need to be asked and ultimately answered by BYD with success in sales. I hope them very best and don't be demotivated with lack of sales rather keep on improving the infrastructure where usability for its owners is high and that could help this Chinese Giant be the best EV in India.