You may have heard about the Koenigsegg Gemera. The Frankenstein hypercar 4 seater daily driver which produced 1700hp that too with a 3 cylinder engine! As fun as that was, they have released a new version and it may have not been translated to the public in the calm and politically correct manner Christian Von Koenigsegg was presenting it. So let's dive deep into Swedish Masterpiece.
Koenigsegg calls the Gemera a Megacar and why wouldn't they? It is a mid-engined grand tourer to compete with the likes of Bentley Continental GT, Aston Martin DB12 and the list continued. However, all of them were front-engined massive yachts whereas the Gemera Polar Opposite. Now to rival the colour of a GT, Gemera is also available with the Jesko-sourced Twin Turbo 5.0 Litre V8. This 1479 Hp is mated to a Dark Matter E-Motor producing 2300hp and 2850Nm of torque! This model is known as the Gemera HV8 whereas the 3-cylinder model is known as the Gemera TFG which is mated to a 9 Speed LST transmission. It also does 0-100 in 1.9 seconds!
To pull off something like that, Koenigsegg HAD to do some trickery. After all, the transmission is working on an AWD system. The transmission now is shaped like a tourbillion. This is generally a system used in a Watch which improves its accuracy to show the time. Most seen in watches like Audemars Piguet and the likes. In the respect of Koenigsegg, it means that this transmission has been wrapped around the engine so that the engine and transmission fit in the same space whereas it would've occupied a lot more with a traditionally different engine and transmission. The prop shaft was able to go forward, finished in carbon fibre, as well as the torque tube. Here, the rights of Koenigsegg brains were able to put the Dark Matter E-Motor which is a bigger version of the corq e motor found in the Gemera TFG. This Dark Matter produces 800 hp and 1250 Nm of torque. All of this is in size zero packaging. Just HOW? The answer lies in the patented by who else but Koenigsegg's Raxial Flux Technology which allows for the motor to have 6 phases which enable the motor to produce these godly numbers. The E Motor can work on all 4 wheels for both models. Not to mention a Hot V setup was used to allow the exhausts to sit right alongside the engine bay.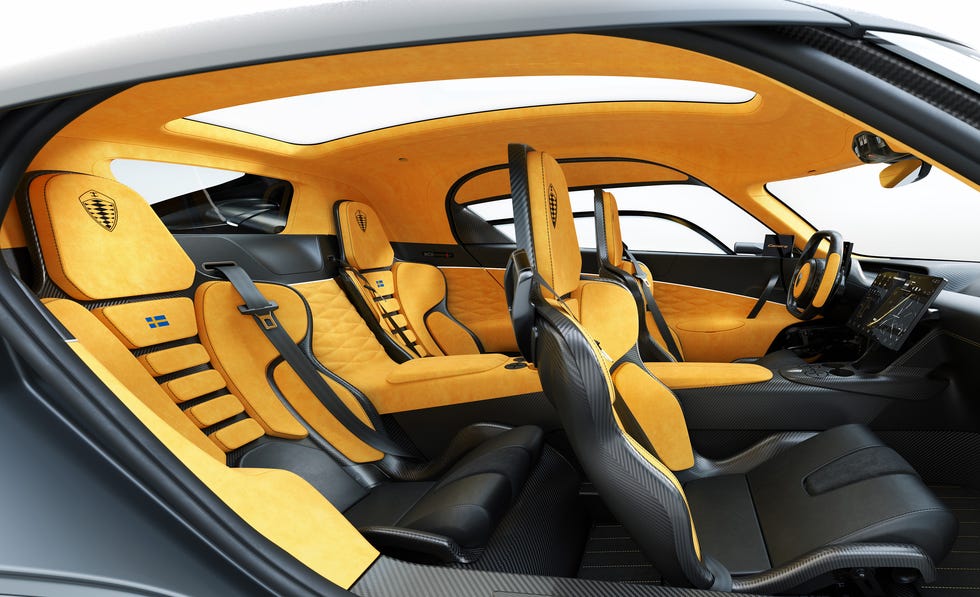 This allows the car to be the fastest 4 seater super Grand Tourer which barely weighs less than 2 tonnes. There is also a big deal that 4 full-size carry-on bags are also able to fit in the luggage compartment styled by yours truly and also allow a fuel capacity of 100 litres.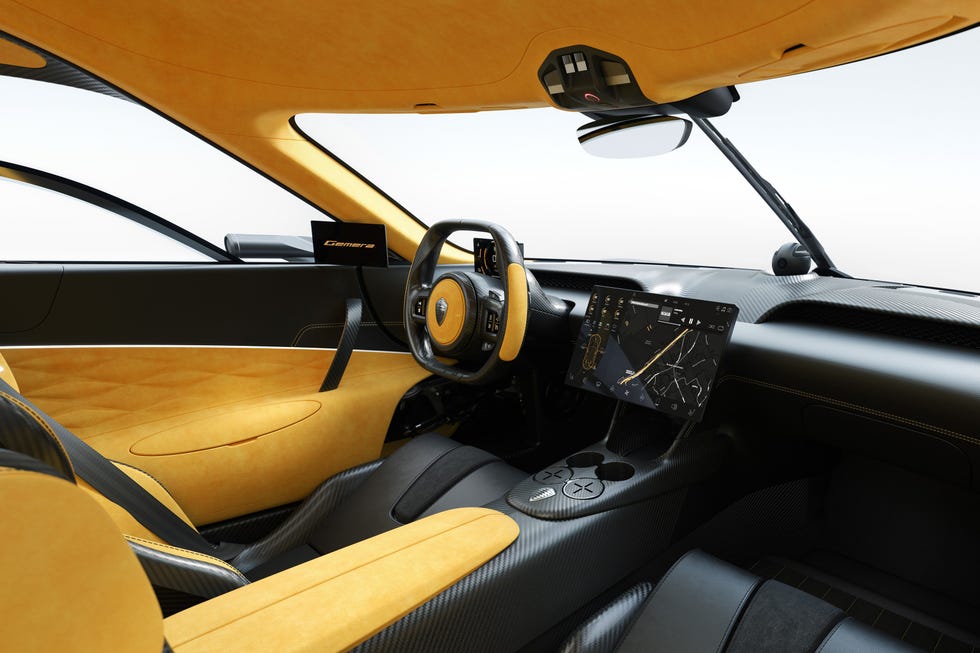 But beyond all of it, we shouldn't forget that the Gemera will be a daily driver and needs a good interior to justify the 3 million dollar price tag. And we think it does it pretty well. On the stage, Christian mentioned the 8 cup holders which are heated and cooled where you can keep a milkshake as well as a hot coffee hot or cold for hours and hours as the car eats the miles.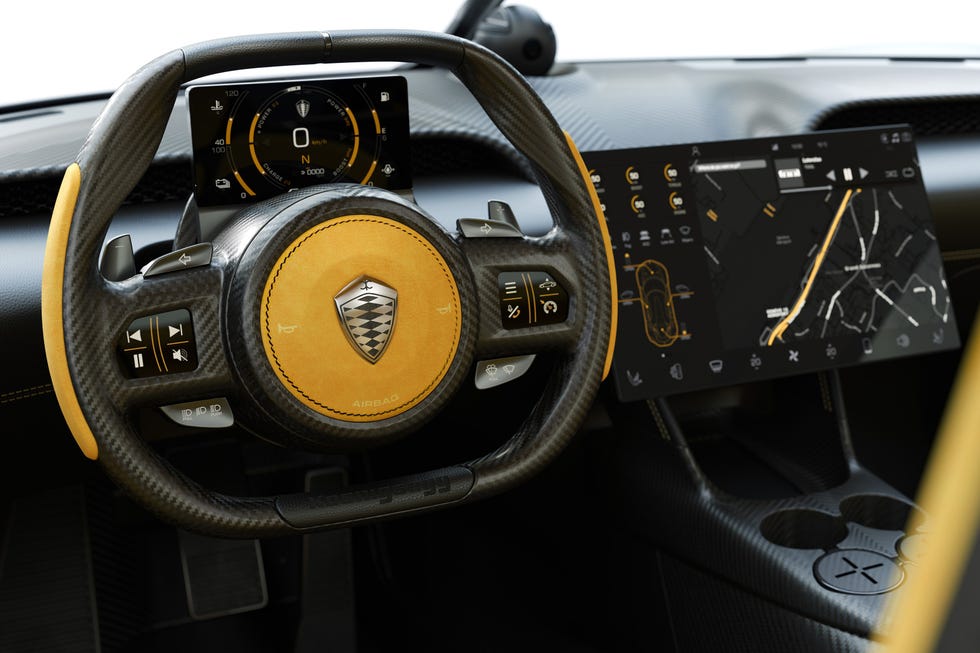 Talking about the dimensions the car has a 3m wheelbase but no B pillar whilst being a 2 door 4 seater. That gives it the look of a Mega GT. The interior has 4 uniquely designed seats which have leather pads on top of them to make them feel very comfortable. It is an interesting mix of sport and comfort at the same time. The instrument cluster is borrowed from the Jesko but sadly we miss out on the G Force Meter. That cluster stuck on the steering wheel got to be the best view any driver could dream and it changes its viewing angles based on the position of the steering wheel. The stalks aren't there instead there are steering wheel-mounted touch-sensitive control with haptic feedback to correspond to your inputs along with permanent thumb buttons for turn signals as well as wipers. The interior comes with 12 speakers sound system which allows passengers to listen or watch movies in symphony on both sides. The Gemera has 2 screens along with a rotating floating camera meant to be a dashcam. There are also no mirrors instead two screens to increase the aerodynamic efficiency of the Mega GT. There is also ADAS level 2.5 with lane keep assist which no hypercar bothers with but this one does.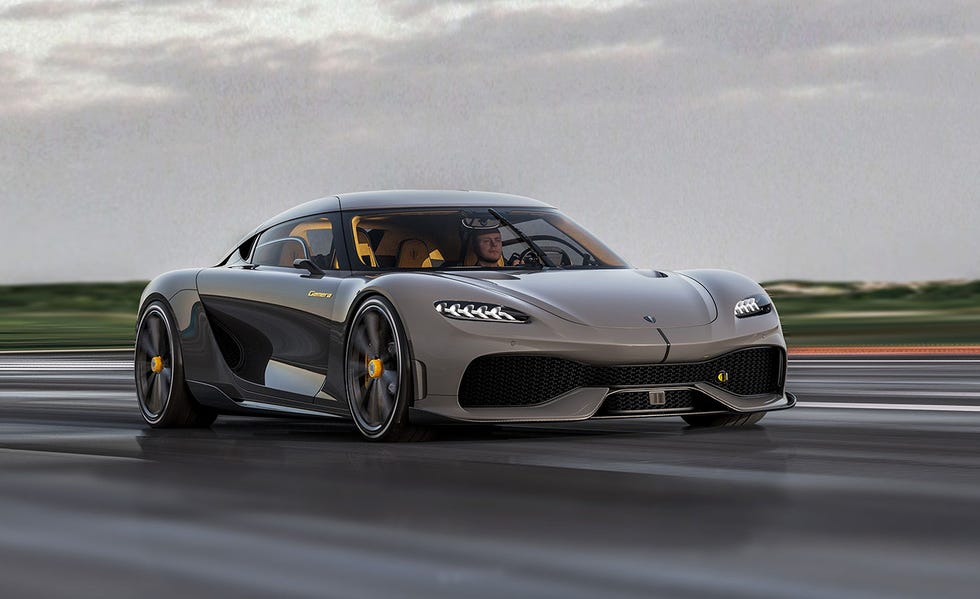 The infotainment system feels slick and is designed in-house which also controls the dihedral synchro helix doors which make the famous movement. The seats are also controlled by the screens. In the rear seats, you will also find a glass-breaking tool to get out in case of an emergency. The screens can also be used to Netflix and chill as well as play video games. I hope that a 3 million hypercar which goes to 100 in 1.9 seconds may also just give the ability to hook a PS5/Xbox to play games as well!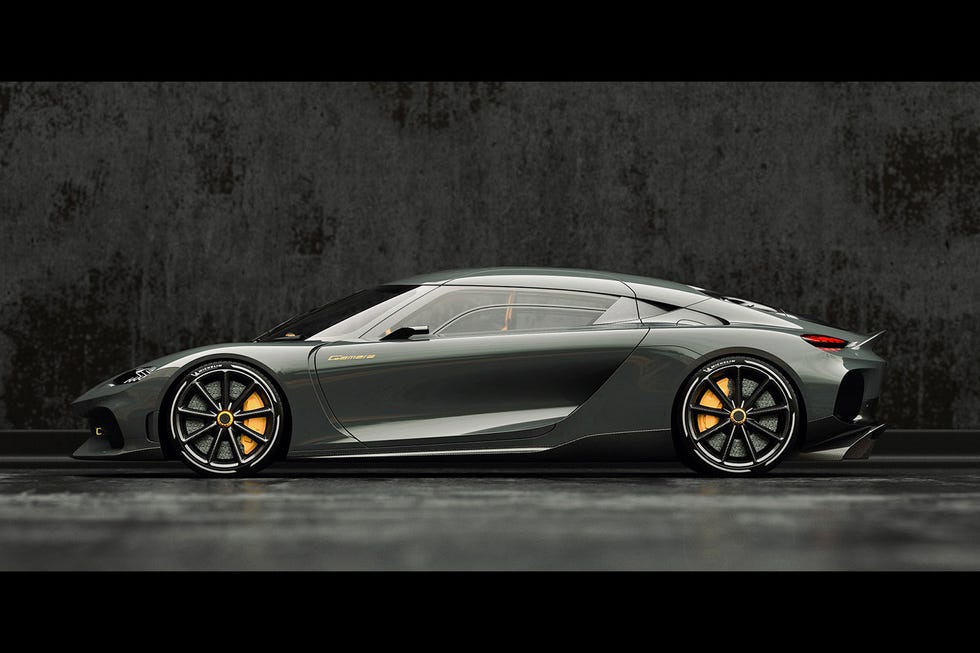 Overall, what not to say about the Gemera TFG as well as HV8. It is only limited to 300 units and it's yet to be seen how many of them are V8 as well as 3 cylinders. You can't go wrong either way. The 3-cylinder motor produces 600hp on its own so it is no slouch. The only thing we worry about is how aspirational a multi-million dollar car really can be. We are reaching new heights of technological marvels every day but it is costing a lot. Sure you may be breaking records as well as making headlines but what will happen to the young kids of today who may as well not even care about cars like these and prices not helping them a single bit! If you have the resources to enjoy these cars, please do but we know a lot of you may just share the feeling I am sharing.