Formula 1 was back in action after a 4-week long break due to the cancellation of the Chinese Grand Prix. This gap was a bit ridiculous but did help us die-hard F1 fans to accept that 2023 is going to be a season of domination. And if we are being honest, Baku didn't help that feeling go away for a single while as Red Bull cruised to victory as well as a 1-2. A track like Baku City Circuit isn't a track which doesn't cause chaos. There always is some action be it in 2018 when Max and Daniel Collided or in 2021 when Hamilton's brake magic was flipped on. But if we are being true to ourselves, this race was a snoozefest. However, there were a lot of stories to be discussed so let's understand them.
Firstly we need to mention that this weekend was different to previous race weekends. This weekend we had the sprint weekend which is notorious for action but in 2023 there is a sprint shootout. To summarize, it is a shortened form of qualifying where it lasts 44 minutes and stops the useless Free Practice 2 and gives us even more action. This shortened Sprint Qualifying has a 12-minute SQ1 and 10-minute SQ2 where the use of Medium Tyres was mandated and SQ3 which was only 8 minutes long gave the closest we could get to a 2-lap shootout.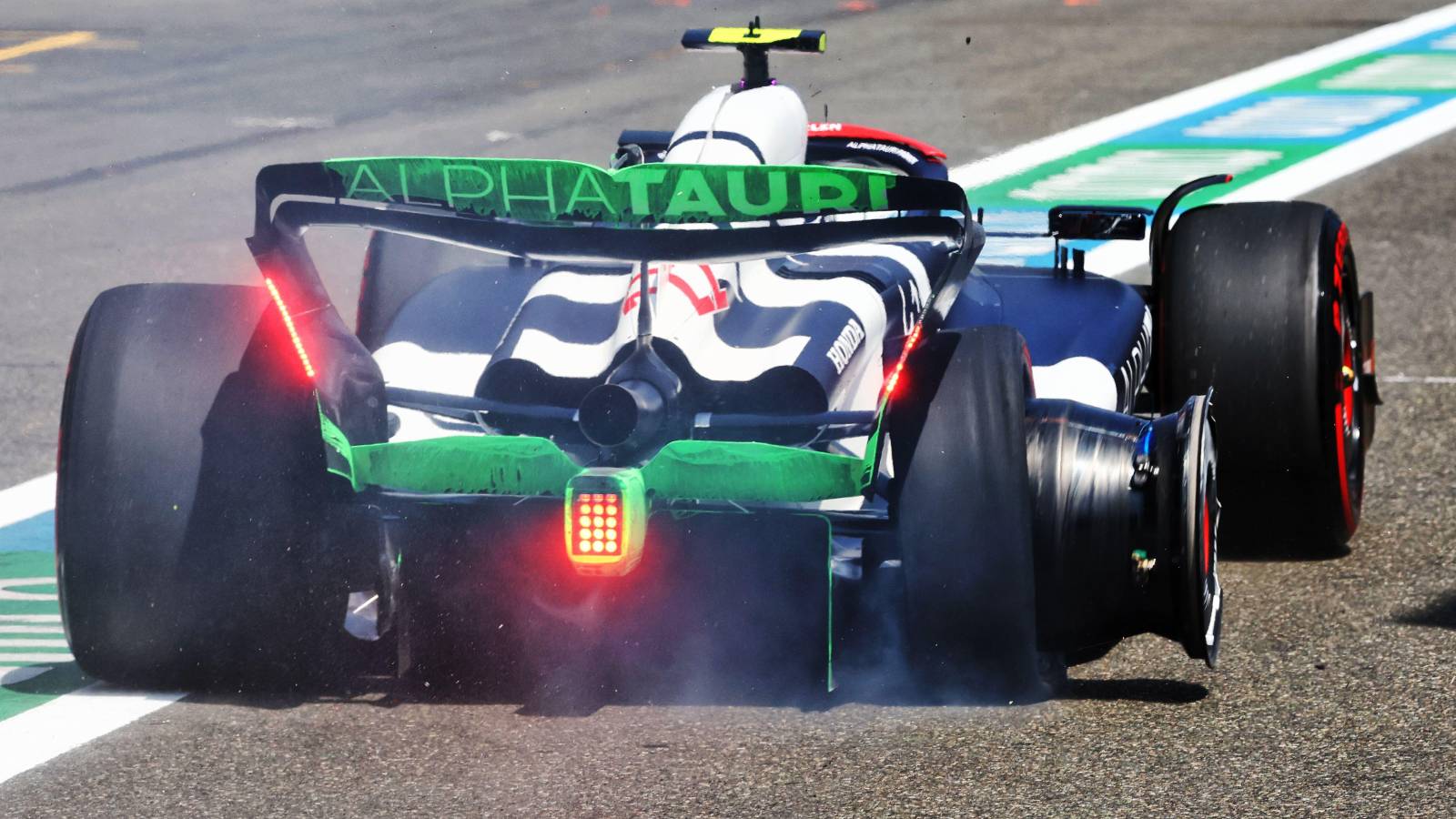 But we will talk about sprint shenanigans later as the first day was the chaos caused by there being only 1 Free Practice Session before Race Day Qualifying. We have heard so many times that drivers don't need 3 practice sessions and can be good with only one. Well, when there was a single practice session there was a lot of chaos and we will be interested to know what their opinion is now. Alpine suffered major technical problems as Pierre Gasly had to stop due to an engine fire. And this was also the case with Esteban Ocon who wasn't able to practice. Haas also experienced power loss with Kevin Magnussen and Yuki Tsunoda Clipped the wall and sadly punctured his tyre. A session to forget for them which did get the atmosphere to be a lot more anxious.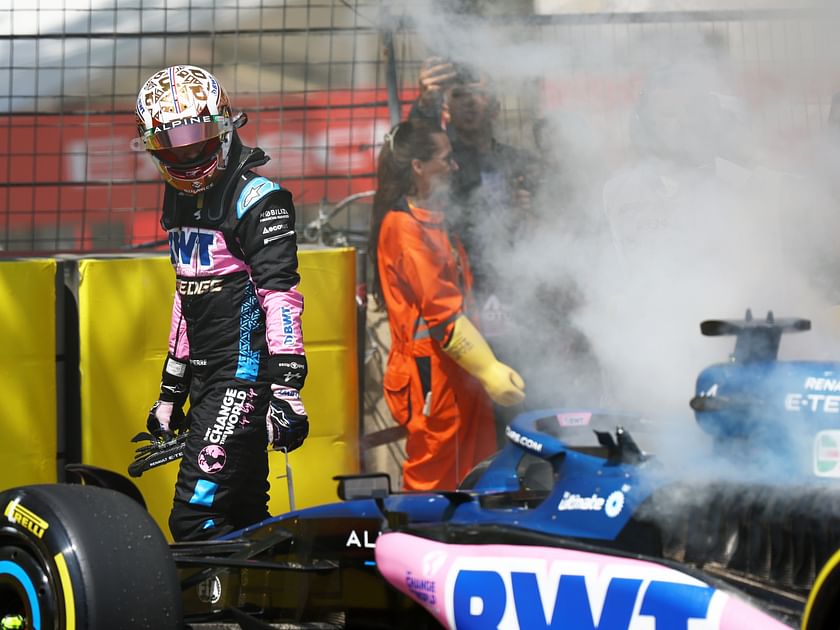 Here comes Qualifying. Picture the scene, all the drivers have just entered their cockpits after over a month and that caused a bit of chaos during Q1. Alphatauri had to have something shitty happen to them when Nyck De Vries crashed due to the locking of brakes. Pierre Gasly was able to make it to Qualifying but sadly crashed his car into the barrier relegating him to 19th. Bcoz of these two crashes this caused the longest Q1 ever with 2 separate red flags. In Q2 out of all people Mercedes were looking particularly slow of the Top 4 as Hamilton and Russell were P9 and P10 when Oscar Piastri knocked George Russell. By 0.004 of a second, he was slower than Hamilton but still goes to show how draggy and not in the correct setup the W14 was. Another surprise was Yuki grabbing the car by its chin to take it Q3 which was a relief for what is comfortably the slowest car on the grid. In Q3 Hamilton was able to dance the car to P5 on the grid whilst Aston Martin was struggling with their DRS not opening on a circuit like Baku. But the star of the show was Charles Leclerc who put the Scarlett SF23 on the first run in P2 missing out on P1 by just 0.000 of a second! That's right Max was 1:40.445 and Charles did the same time. This got our hearts pumping as the Ferrari was looking quite speedy to take the pole. Our hearts were satisfied when on the next run Charles Leclerc took his 19th Pole Position. Seeing Charles in that Ferrari cramming everything he can is just stuff from the other world.
The next day's sprint qualifying was largely the same except Williams was able to unlock their pace but sadly on a day when only the Top 8 are rewarded, Alex Albon finished P9. The other highlight was that Yuki Tsunoda missed Q2 because of a red flag in Q1 right as he set the time which was safe enough for SQ2. That radio message did get our ears rolling again and it is too funny to not add Yuki Radio Moments as these are always a bit of banter with him. Also, Charles Leclerc took Sprint Pole. Yes, the absolute madman that he was he asserted his dominance this week as to who is the king of a single lap. Sadly, this brought an end to all the chaos there was and now begins the races.
There can be an argument about how sprint diluted the excitement of the Sunday on a Saturday. It was something which we all expected. The Bulls were too strong and even when DRS wasn't active they were catching Leclerc at the rate of knots. The Sprint race was won by Checo as he was ahead of Max on Saturday and took the win and the 8 points that came with it.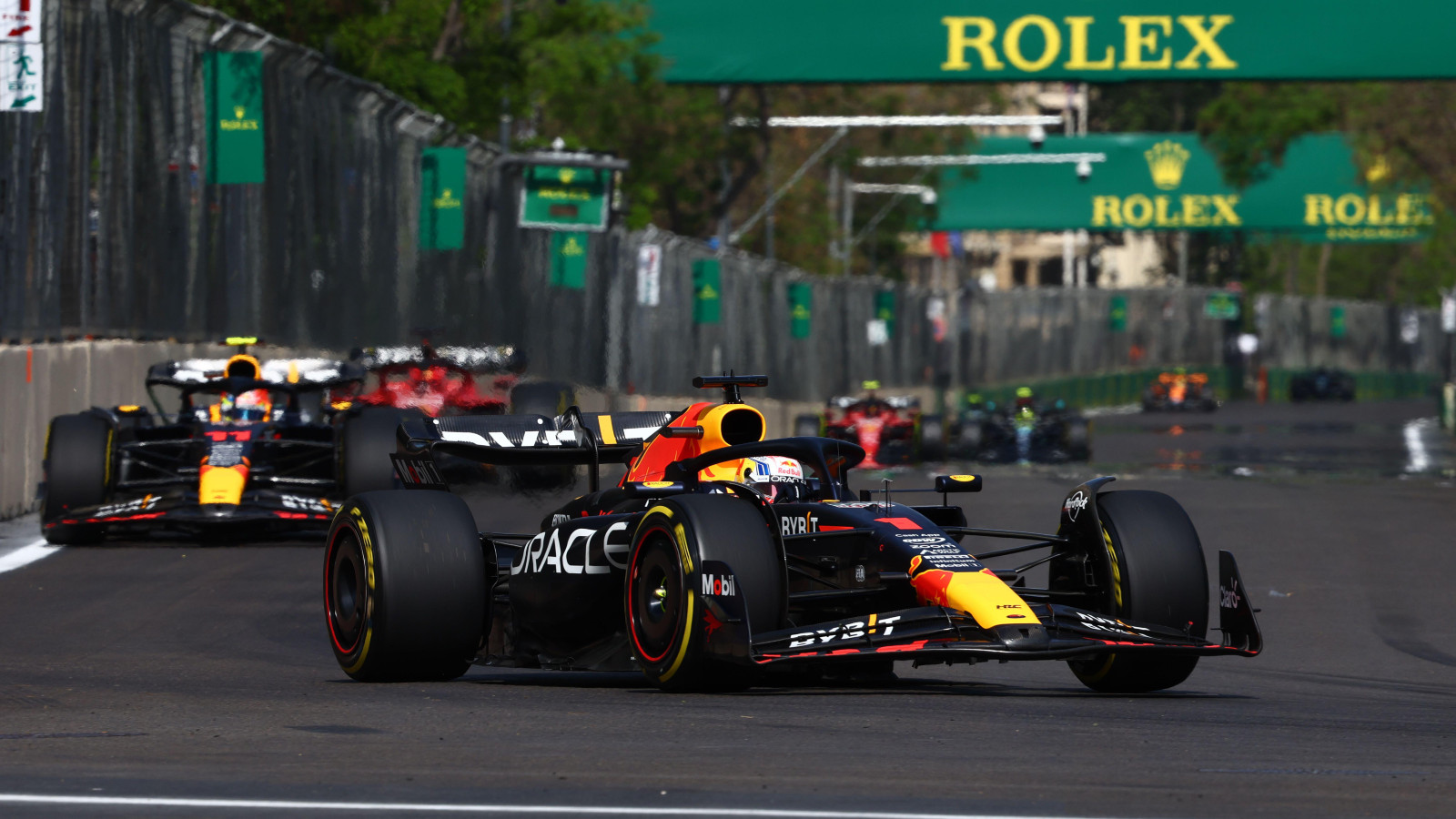 On Sunday it was Lights Out and Away We Go racing into the distance of the city nearby Caspian Sea. Charles Leclerc lead for about 3 laps to be eventually to be overtaken by Max Verstappen which was a very easy move. It was like a 5-year-old kid running with his Grandfather almost. However, Baku wasn't the spectacle it always was. This race was very dull. A reason may be that there weren't incidents at all. Pretty much all drivers came unscathed from just barely "kissing the walls as Jackie Stewart would say". The statement is etched into our heads as Crofty went on and on about it for pretty much the whole race where Hulkenberg, Leclerc and even Perez at a point just touched the wheel and continued. This raises doubts about the new regulations as drivers have started to complain about not being able to follow the other car yet again. Last year we were able to follow quite closely as the floors were lower but to reduce porpoising it has taken the mick out of racing and it is a problem which needs to be sorted at the earliest. Pierre Gasly continued to have a forgettable weekend as he simply couldn't overtake any car other than Logan Sargeant and so did Nyck De Vries who ploughed into the wall causing a safety car. Another Driver who had a forgettable weekend was Valtteri Bottas who did finish ahead of Zhou but didn't do anything spectacular which his talent is worthy of.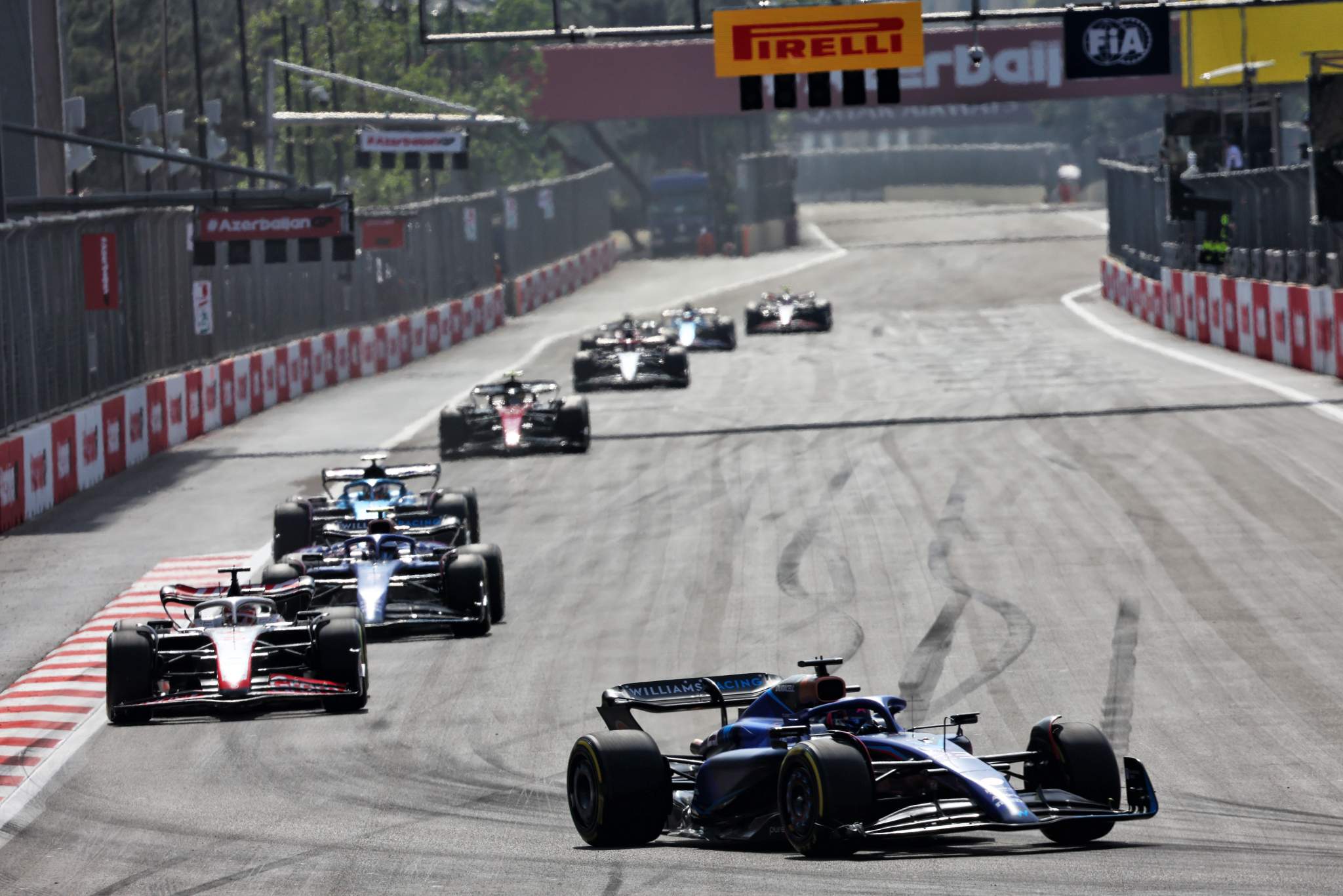 An aspect which should be considered is the tailwind in Baku. It is a very windy city and this wind often helps to increase action. Only in 2016 did we have a bad Baku race and we had an eerily similar race in 2023 and some blame can be attributed to it. But what was the biggest problem in the race was DRS Train. This caused drivers to not be able to do anything even if they were able to follow the other driver. Be it Alonso Vs Charles on the final lap or Hamilton vs Sainz.
Talking about Boring we need to talk about the race for the win. Sergio Perez took his 6th win of his career and truly showed everyone who the king of the street circuit is. What should be talked about is Max Verstappen. He pitted right when Nyck De Vries DNF'd and was caught out by the safety car. A similar thing happened in Jeddah but we are not able to understand it. In Jeddah, he could've passed Sergio but didn't as he didn't have enough time. This time there were 30 or so laps to do that and considering he was P7 at the end of the safety car he recovered to P2 in a very short span so questions need to be asked is he starting to get complacent? Overall Max did not deliver this weekend and as compared to Checo he didn't come even close to doing anything meaningful. A reason why Checo also finished higher than Max was that he was able to preserve his tyres well in the race. On the straights, Max was quicker than Perez but Perez was able to keep up in the corners to maintain a 1.5 to 3-second gap between Max. Yes, we may understand that Max wasn't able to be as quick but not even in the DRS range is a bit surprising from a driver who was looking a bit agitated in the sprint due to sidepod damage he also quarrelled with George Russell. Is it the beginning of the end of a 3rd world title for Max? Only time can tell. Overall this has reduced the gap to just 5 points which Max leads at the moment. It may only take a couple of DNFs from him and Checo can easily capitalize on it.
Also, how can we not mention the Aston Martins with the bromance between Fernando and Lance when Alonso is telling the brake balance to help Lance and Lance ironically spin out of the track? And ultimately he finished P4 which was good considering the DRS issues Aston was facing during the whole weekend. Leclerc took his 25th podium to bring some confidence to Scuderia as the season progresses.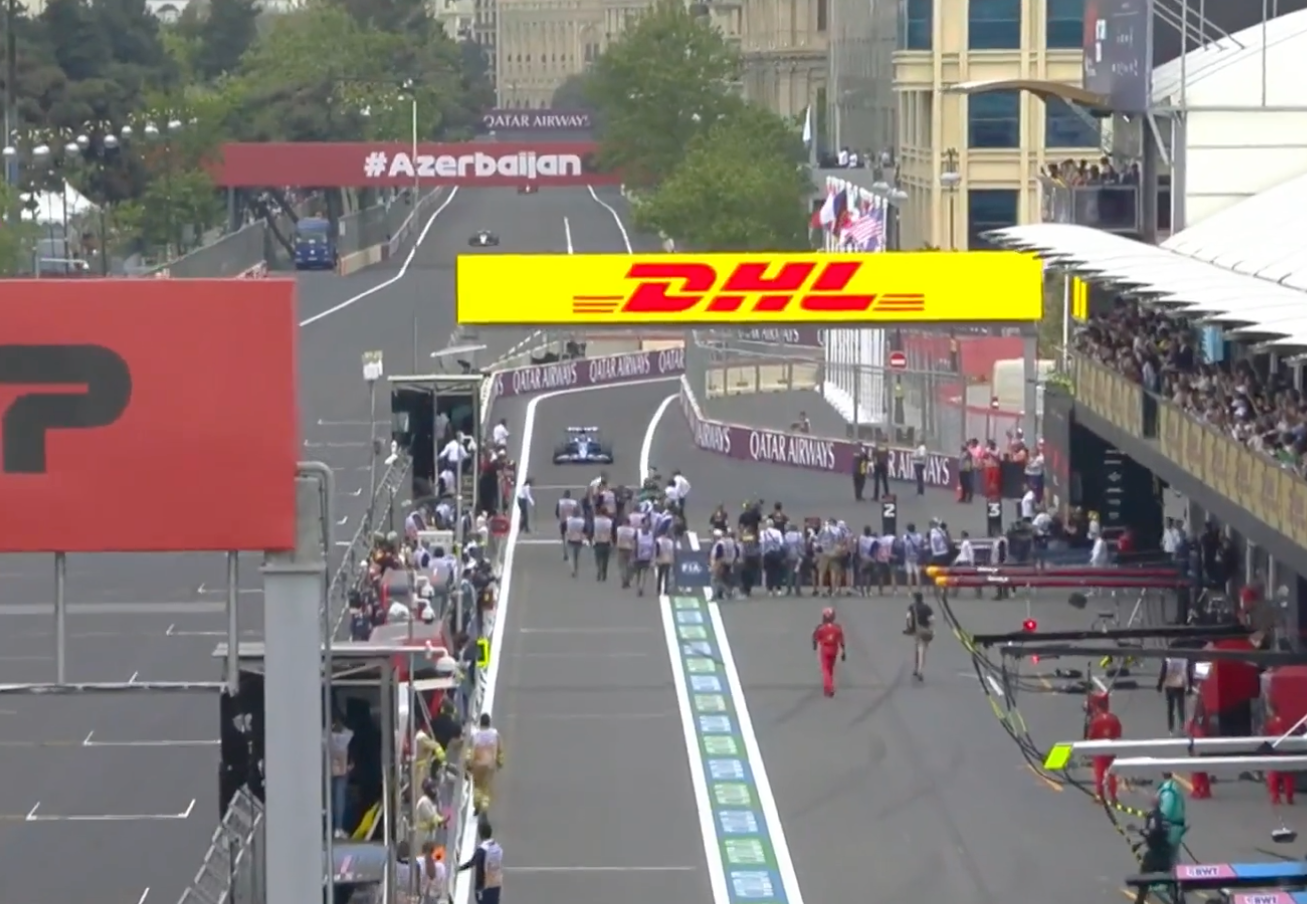 And also we should mention that on the last lap when Ocon came to the pit as he was mandated by the regulations, he almost ploughed into the FIA officials who were sent on track which was in breach of regulations. FIA says it will investigate itself so we don't expect anything more than a slap on the wrist for it but it was a bad situation considering the same happened in Australia last year when Albon pitted on the last lap. FIA F-ups need to stop now and that is bringing the sport into disrepute. And to finish off just like in the race, George Russell took the fastest lap on the last lap and that brought an end to a mixed race, to say the least. Come On F1! Bring some spice into 2023 as we desperately need it!