In India, we've got some pretty decent racing history some of our drivers have made it up to F1 with the likes of Narain Karthikeyan, and Karun Chandhok and coming up again with Jehaan Daruwala, we've got some pretty badass GT car drivers too, Aditya Patel and Sailesh Bolisetti have made our country proud on many occasions. But the most prolific, History Rich Motorsport in India is Rally Racing.
 I was allowed to get a taste of what these stripped-out, mud-munching track weapons are made of, and this is what the report is:
 This is an INRC-1 Volkswagen Polo Rally car from Harmonixx Tuning and GT tuners. This is a VW Motorsport homologated 1.2 TSI manual Polo (something really rare) and it's been specifically sanctioned by the motorsport division so that you can make it into a Rally car. In terms of physical performance upgrades to the engine, there isn't quite a lot. That's because of the category that this car runs in, which is group N, most of the internals need to be stock and factory set. Pretty much all that has been done is a standalone ECU from MoTec (which is a big, expensive and complex affair) and a full system exhaust which is approved by the commission. That pretty much sums up all the mods that are allowed in the category. Apart from the power you've got quite a lot of things around the car that have been upgraded to take on the Rally stages and once you start looking at everything around things start getting pretty hardcore, pretty quickly, and what better chassis to drive my first ever  Rally car than the most successful chassis.
the Volkswagen Polo has been a staple in the hatchback scene in many parts of the World just like India. Known for its robust and ever-ready characteristics in the Practical body of a hatchback. But the polo is more than just that. The Volkswagen Polo R-WRC is one of the most successful  Rally cars in the history of the World Rally Championship.
With four consecutive double World titles in Four Seasons! In fact, if looking at the percentage of success the polo R-WRC is the most successful car ever because it scored 43 wins in 52 rallies. This success is proof of what a great canvas the polo is and the boys at Harmonixx Tuning and GT Tuners have been kind enough to let ME get my hands on their INRC car for this year in group N
Because this is a race car, it needs to be driven at its limit for it to be at its best. At the limit, you have a lot of air resistance, and if someone like me understands that, the race engineers knew it too, that's why this car has some Aerodynamic changes over the front for two reasons.
1. The engine receives maximum cooling and overheating isn't an issue
2. Being able to channel clean air over the front axle to improve grip and stability at high speeds.
There are new ducts on the bumper that are 3D printed for more air to flow towards the intercooler and over the bonnet, you've got air ducts that would push the air over the windshield to pierce through the air and you've got a roof scoop now which helps to cool the interior of the car because there are vents inside, on the ceiling of the cockpit.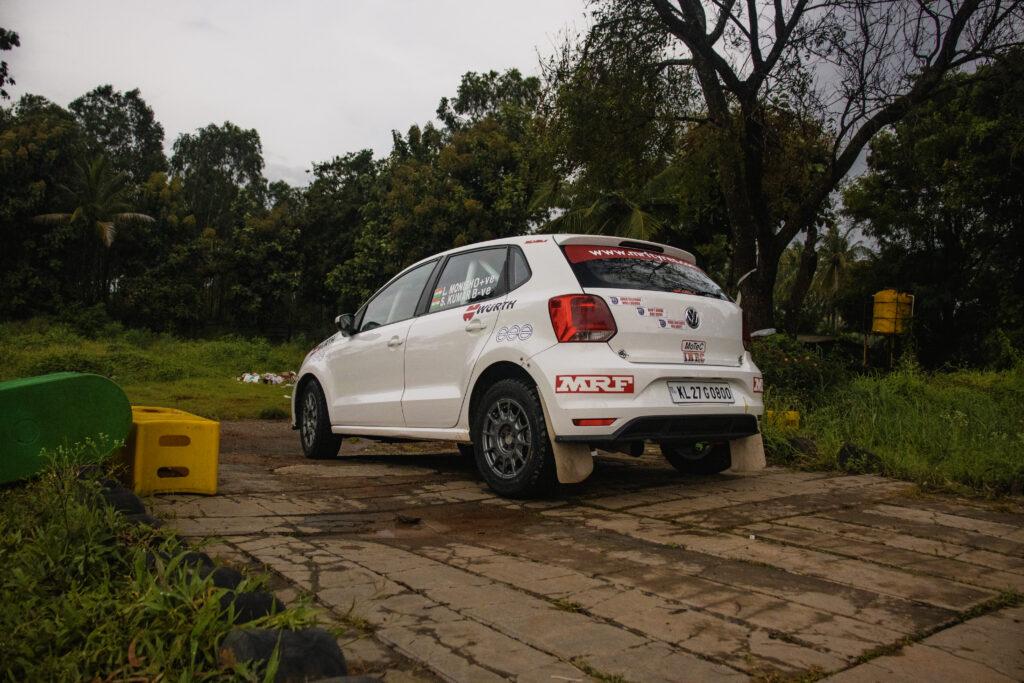 When it comes to Aesthetics, the car is taller because it is on Reiger Rally spec single piston suspension with some really pretty Team Dynamics Rally spec rims, which are pretty hard and can handle harder forces than a standard set of rims. The rear discs on the brakes are now a GTI setup that is connected to a hydraulic brake so you've got much more braking power and control.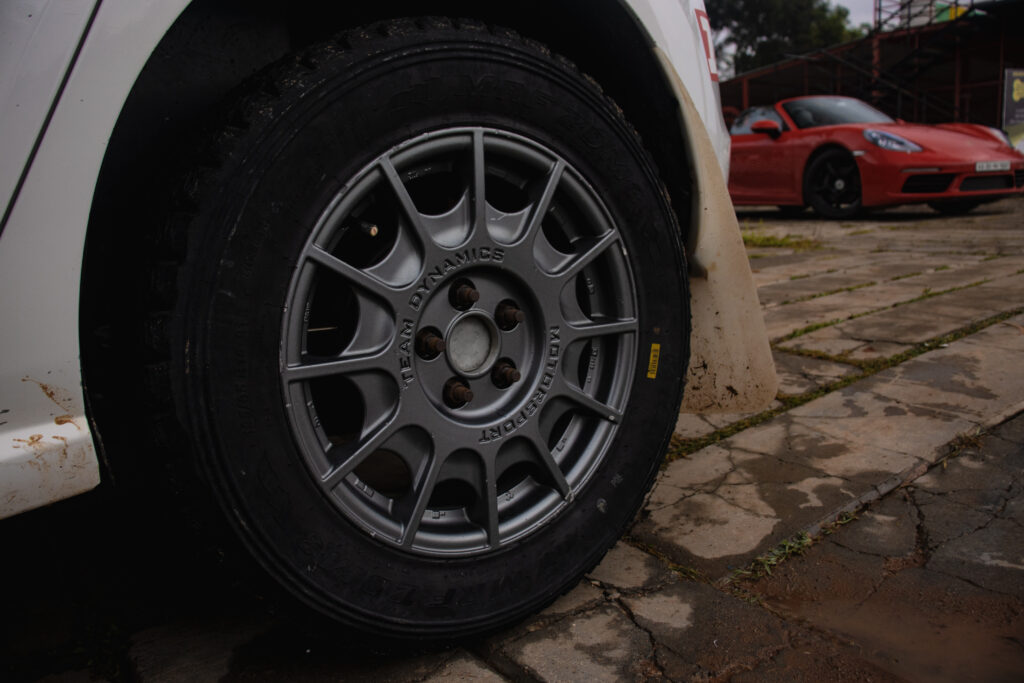 Getting into the cockpit (which is not graceful, at all), is a completely different environment compared to your average polo. The entire rear has been replaced with scaffolding for the FIA-certified roll cage. You need to get through the roll cage to enter into your OMP racing bucket, then you've got a six-point harness to strap yourself into and you grab onto your OMP Rally spec steering wheel.
 A lot of goodies like the MoTec digital dash display are part of the Standalone entire kit, with a MoTec Power Distribution Manager visible on the co-pilot's floor along with the ECU right there. The floor is metal instead of leather and carpets, all creature comforts are eliminated. you've got fire extinguisher nozzles directly pointed at your face which is quite intimidating, and an actual fire extinguisher right under the co-pilot if things get sour. 
all-in-all everything inside is very hardcore and pretty 'Purpose Driven'. Just like you've got a single button for your launch mode, a single button for anti-lag settings and pretty much all of the controls are right at your disposal via the MoTec dashboard and the starting sequence has also changed so now you need to start the battery, get the ignition on and press the magic button instead of having a regular car key that you turn and go.
My Driving Experience? Well, it still does have quite a lot of resemblance to a Polo in terms of driving characteristics. It is very compliant in the corners it feels very direct in terms of pedal response but it is not intimidating at all. It handles the corners so well even though the engineers told me they didn't set the car up for the track. But once it loses grips, boy or boy are you in for the ride of your life.  The steering rack is still stock so you have hints of numbness but it is rather predictable. you can understand everything that's going on. The chassis feels so flat throughout the corners. it does understeer yes but on the exit it feels so good when it does lose the rear as well and you're sliding the car around, but it's not something that you can't handle as an amateur on a tiny track like I was. I Can Only Imagine, that if I'm having so much fun on a wet track with prepped tarmac, how would it feel on a track that is dirty filled with muck and has no grip? Maybe some day my Rally Stars re-align.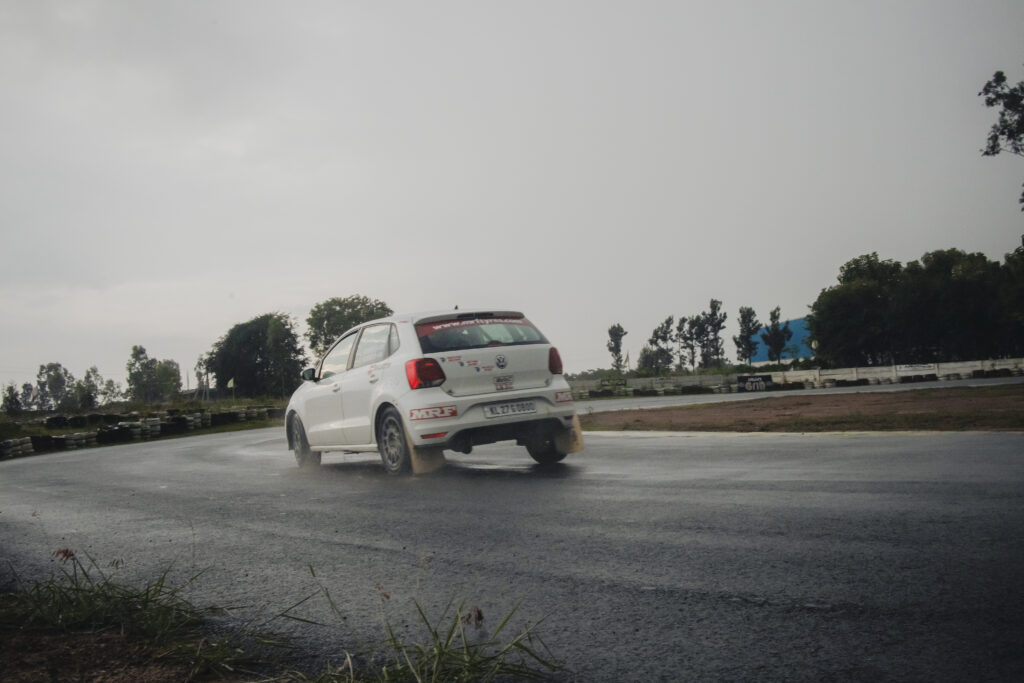 if you want to have fun like this in a Rally car like this you're going to be setting yourself up you're gonna be setting yourself up to spend 40 lakh rupees. that is the basic amount of money that you're going to need to get a car that is basically stripped out and Rally ready from Volkswagen Motorsport.
 I am absolutely mesmerised with what this car can do. it was so overstimulating that it gave me a newfound respect for the elite athlete that is a Rally driver. An absolute hoot in the corners and such a beautiful car to drive. but this can be yours if you have friends at Volkswagen Motorsport. this is actually a private Rally drivers car and trust me, its much easier said than done.
This INRC Polo Rally car is a proper race car, you need to be fully committed to this car to extract its full potential. Plus, running and maintaining such a vehicle actually requires a full-on race team to calibrate it, maintain it, and set it up for each and every sort of terrain. That's why GT tuners and Harmonixx had sent Sangeet, one of their race Engineers who had to transport this thing by a whole truck! The level of adjustment that these cars can handle is just insane. Sangeet was telling us that the setup we drove in was very neutral and easy going for a noob like me, but with some rebound adjustments and a few more tweaks this thing can be set up take on any stage, track, patch of road in the world, and that, is what I love about it, a race car that can be set for ANYTHING.
You can watch my video review of the polo on Youtube :