When quite a few automakers were making small hatchbacks they were very popular for their size, fuel economy as well as lower price as compared to their bigger-sized counterparts. Cars like the Hyundai i10, Maruti Celerio, and Alto K10 were selling quite well. Honda also had the popular Jazz but to complement it they also launched Honda Brio. It was launched at a competitive price of 6.95 Lakhs and offered funky styling as well as some aspects which make a compelling case for it to be a serious contender for your next project car.
Let's jump straight into the driving part as that's the best part. The Honda Brio is powered by a 1.2 litre inline 4-cylinder which is naturally aspirated. It is channelized to the wheels through either a 5-speed manual or a CVT transmission. We think our audience is smart enough to understand which transmission to buy. Not to mention, the manual was the transmission got the better fuel economy and was more fun to drive. It also is more fun to drive.
To drive a Brio is important as the clutch and shifter action is out of this world. It is some of the best and that is also the case with the steering wheel. It is direct and you pinpoint it anywhere it goes. It is like a toy to handle. Also, it is a joy to listen to. The power delivery is smooth and no turbo lag is present as there is a lack of turbo itself. Sure that makes the car a bit slower but we would recommend it to someone who wants to learn to drive fast. It also is relatively low to the ground you do love driving it. however, you don't feel it as the cabin is very airy. The famous VTEC does kick in yo but it is a different type of kick which comes at around 6500rpm. Sure it is not similar to a Honda City 2.5 but it tries its best to replicate out of what is an econobox which makes 15kmpl combined city and highway and can give upwards of 16 or 17 if you try hard enough.
But you don't care about fuel economy, do you? What you may care about is its daily driveability. Now keep in mind Honda launched the Brio in 2012 so it is behind in terms of features. But on the inside the design is quite good as you are greeted with a performance-looking gauge cluster. What is lacking is a temperature gauge but the Eco light does help your wallet save its money quite well. The rear seats are decent for any tall person and the car is generally very spacious. It does miss out on some modern tech but that is to be expected. The car does have cupholders but misses out on the armrest.
The interior quality is quite good, the seats hug you well and keep you in place in twisty corners. The ride is decent but can be harsh roads because the suspension is geared towards cornering ability. The interior is a really good place to spend time in for a budget hatchback and it does hide it very well that its price tag.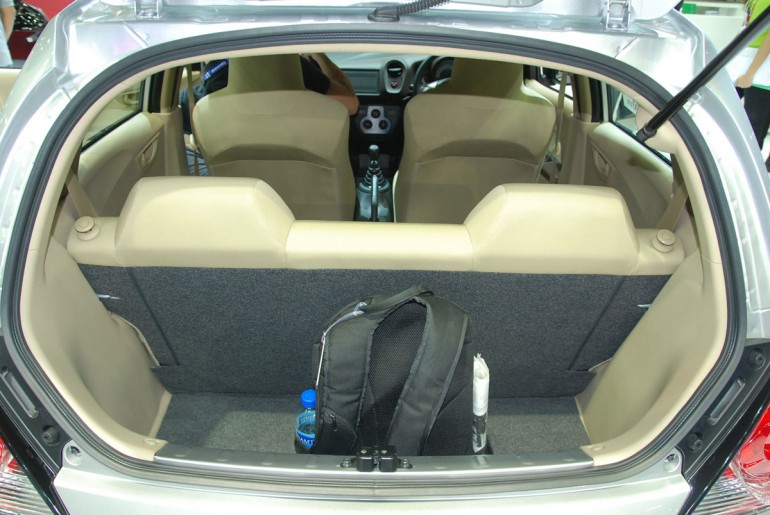 However, another aspect of practicality is boot space which is as good as a Lamborghini Huracan. For the eagle-eyed viewers you get the joke so it does make you more creative as you try to find extra space. The seats don't fold 60-40 but the Brio does find more unusual ways to make it more unique like the rear hatch is fully glass. It doesn't break and for sure there is a substance which makes it more durable than a normal glass and it is easy to lift it as compared to a normal hatch. But the juicy part is here. The Honda Brio is a brilliant car to drive. It is a shame it didn't sell in more numbers.
The new Honda Brio also has a performance model but there is more to be happy about the model sold in India. That is its tuning potential. The 1.2 NA doesn't have much of that so a L15 Engine swap from a Honda City is necessary. It fits very easily as the mounts are just there and that engine is immensely tunable. The mod list goes on and on as you can mount various stages of tunes. A good mid-tier setup can very easily make upwards of 180hp. If you go for a full flat Garett Turbo you can think of making more than 200hp. That would take work but it can then very easily rival cars more powerful as the weight of brio is only 920kg. Car similar to it is Abarth Punto and Honda Brio have superior handling and clutch and shifting capabilities with their brilliant golf ball-like 5-speed manual which is a joy to shift from gear to gear.
Tuners like Game Over Motorsports have done it so there are people who can help out if something goes wrong. It, however, won't because it is a Honda however we would recommend forged internals to get out maximum power reliably as well as coil-overs to beef up handling even more. All in all, Honda Brio is a brilliant underrated tuner hot hatch and it can teach you a lot you can have an opportunity to grow with the car which can't be said a lot about other cars like VW Polo which demand high attention.