Ah, the return of the sedan is upon us! And for good measure too! In the early years of this century, sedans ruled our roads. Cielos, Balenos, Siennas and later, the City and the Ikon were everywhere. It's a pity the pseudo-SUV craze took over and all you see on the roads today are jacked up economy cars with cladding and roof rails, a sorry sight indeed. A brand new sedan is exactly what we need right now, and Skoda delivers on that, big time!
Enter, the Slavia. At first glance, a handsome car with sharp, crisp body lines, tasteful chrome treatment, and plentiful Czech cut-glass motifs in the head and tail lamps. Skoda design to a T, you'd think? Well, looks are subjective, but to my eyes, the round fog lamps do not fit with the rest of the sharp, angular design. And the whole nose-down-tails-up stance does a good imitation of a police sniffer dog. But my complaints pale in comparison to the fact that we are getting a brand new sedan in this day and age of the 'SUV'. Overall, this is quite a handsome car and will age well in a darker colour.
Jump into the driver's seat (actually, slide in, because the car rides so high, ingress is really good), and you are greeted by a beautifully trimmed leather steering wheel. On it, you have switches and scroll-style buttons but what bugs me are the blanks. Future-proofing for more features would be my guess. The dashboard looks smart with a bronze trim connecting the circular vents at both ends. And there are FIVE different textures for the dash alone! Funnily enough, they all seem to work quite well because it does not look overdone. Plastics are hard-wearing but well screwed together. But why Skoda plastered their name on BOTH sides of the instrument binnacle is a mystery to me. VAG cars were supposed to be about understated elegance, and this particular thing bugs me.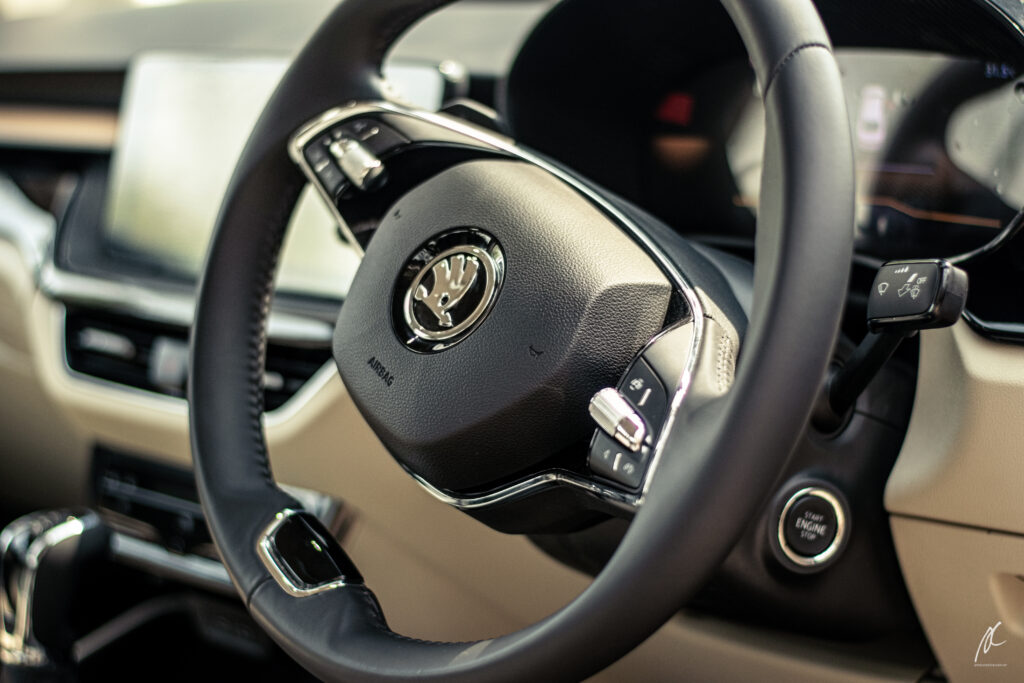 Every control is well placed and within easy reach, but of course, Skoda just had to spoil the whole ergonomically sound cabin experience by ditching rotary dials for the climate control and putting in a horrible touch-sensitive unit. This touch-sensitive shenanigan was done by Honda a few years ago and I vividly remember it to be such an easy to use system! Wait a minute, I did not! No one liked it, and here are Skoda and VW, late to the party, but a party they should've skipped altogether. This system in the Slavia is extremely hard to use when you're stationary and I can only imagine how bad it will be on the move. I never bothered to use it myself, just set it to 22 degrees on Auto and left it for the day. Of course, there are screens everywhere; the big, easy-to-use infotainment screen has great resolution and snappy performance, but I am not a fan of the half-assed job for the instrument cluster. C'mon, Skoda, this car is already pushing 20+ lakh, and for that, I would've liked a full-length screen like on a Karoq or T Roc. Nevertheless, the display itself is of very high quality, with sharp graphics and all the information you'd ever need. The infotainment screen supports Android Auto and Car Play, but you'd better have a C-type USB cable because there are no A-type ports in this car. Maybe a bit too future-proof? The reverse camera though is 'Back to the Past'. Quality is worse than a Nokia phone camera from 2012.
The front cooled seats are a boon for Indian summers and are very comfy. Not exactly body-hugging, but does the job unless you drive like a hooligan. The rear seats are where the Slavia's long wheelbase shines; the seatback is angled perfectly for long journeys and there is ample space all around… for two people. Yes, keep in mind, that this car is perfect for 4 people and 5 is a squeeze. Speaking of squeezes, you can squeeze a lot of stuff in the huge boot. Just remember this is not a notchback like the Octavia and Superb, so the size of the boot opening is a factor here.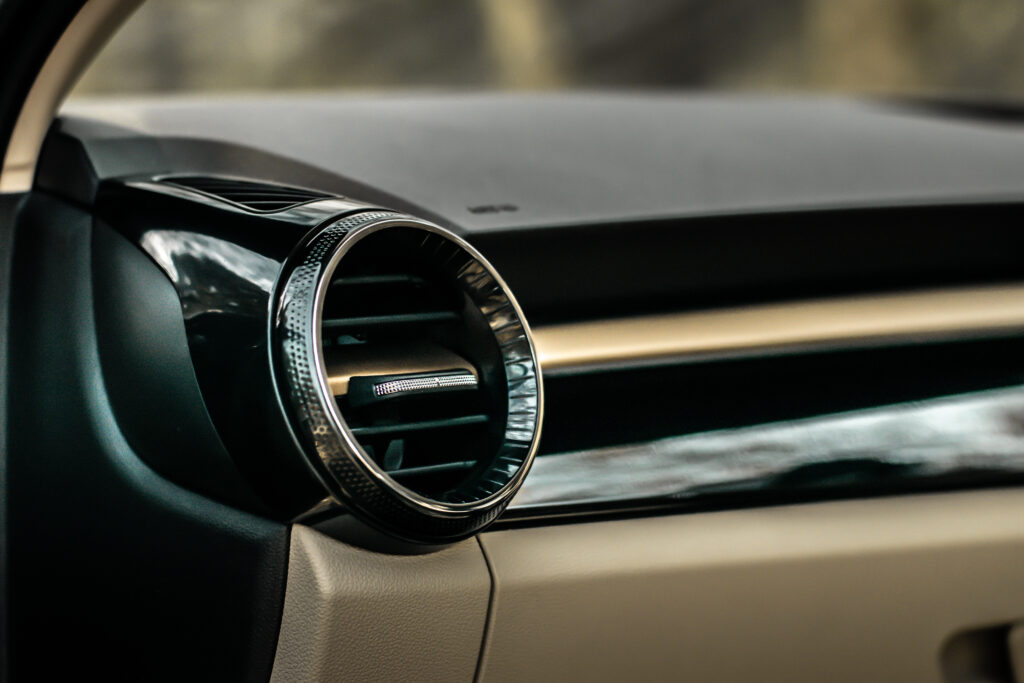 Overall build quality is an obvious issue. A VAG car should not feel like this; their whole USP was that they build solid-feeling cars. Sure, Slavia feels better built than the Japanese rival, but not like a Skoda should. The door shuts with a much lighter thud than you'd expect by seeing the badge upfront. Cabin insulation should have been better too.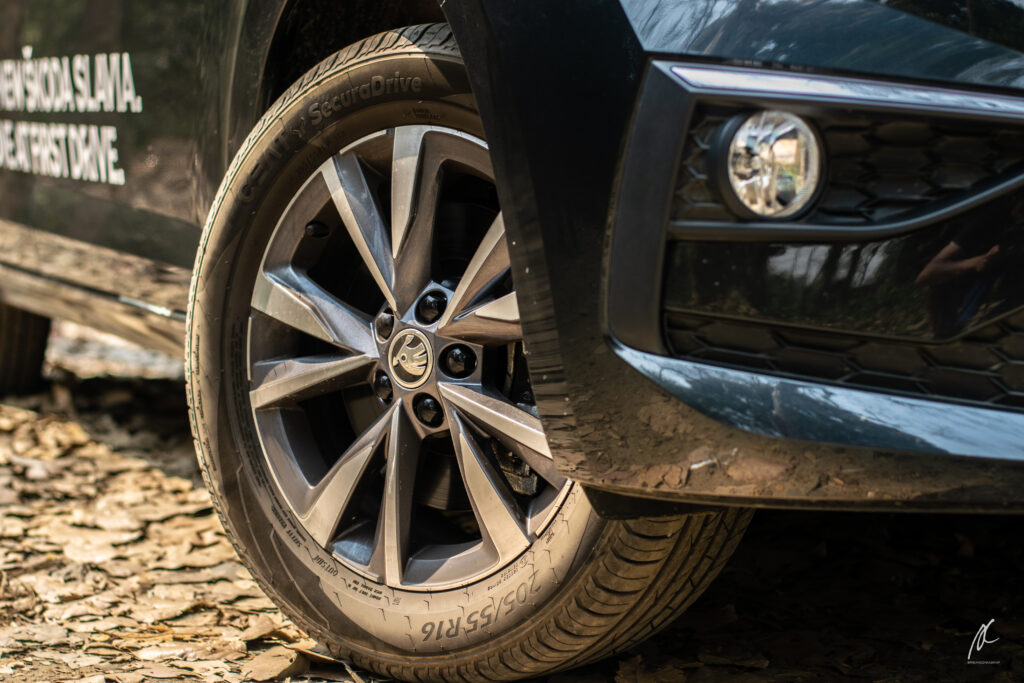 Now, the driving. I tested only the 1.5L with the DSG and right off the bat, I can say that this combo works extremely well in the Slavia. Pulls linearly to almost 6000 revs, and still doesn't feel out of breath. There's a good low end, supremely usable mid-range and a quite-strong-for-a-turbo top end. But is this a character engine? Well, not to me. Sure there's enough poke everywhere, but you never have to work the engine to get there and it's so linear that you can hardly tell when the turbo comes on full swing. It works great for most people, but when you want a bit more engagement, it falls short in my books. Maybe the manual would solve some of my issues. Anyway, the dual-clutch gearbox is great, with quick downshifts and snappy upshifts in S mode. Like any DSG, the shifts are intuitive with paddle shifters for more control. Also, like any DSG, shifts can get a bit jerky at slow speeds. The paddles themselves have been placed a bit too inboard the steering wheel for my liking, but hey, at least they are present. This is the DQ200, mind you. It is brilliant, as always…till it is working properly. Although there are no new issues with the newer DQ200s, that huge question mark will remain in our heads for a while.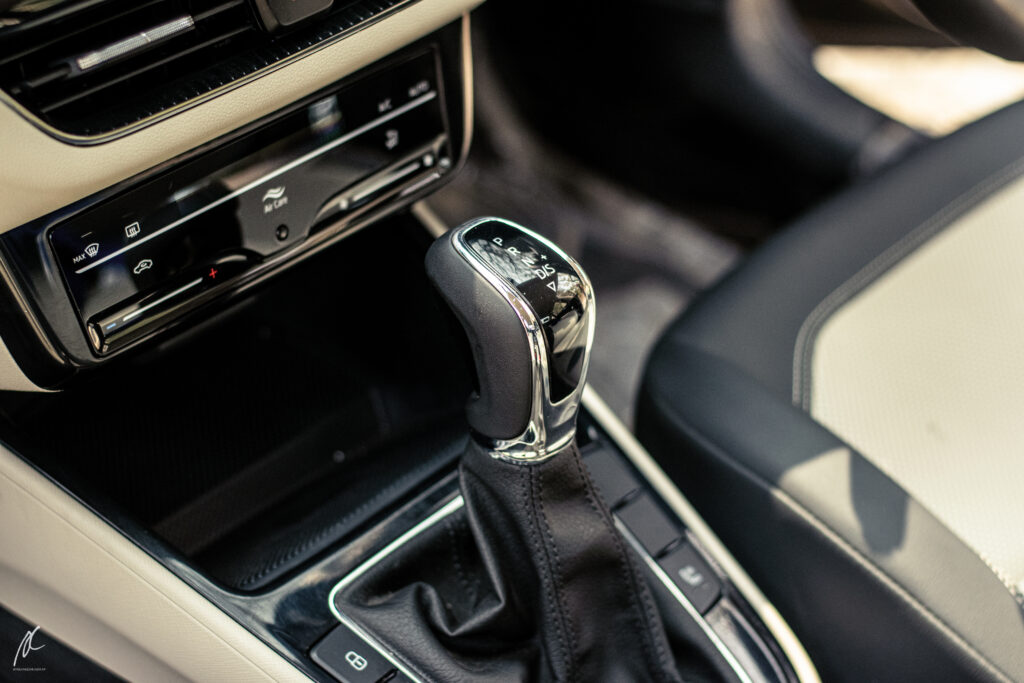 This next part is a touchy subject when it comes to VW fans; the dynamics. First, I'll get the good things out of the way. The high ground clearance is a boon for Indian potholes with bits of tarmac splayed around, and you won't be scraping the belly on any tree-trunks-disguised-as-speed-breakers. The next good thing is the chassis; it is a masterpiece in this segment. It is stiff, which is a trait of the parent MQB platform, which has allowed the engineers to install softer springs for a better ride. But dynamically, apart from the chassis, there is little that helps to make it a good handling, engaging car.
Those softer springs I mentioned surprisingly don't help much at slow speeds; in the city, there is that typical VW-Esque underlying stiffness, which thankfully gets better as speeds increase. At highway speeds, there is a great sense of security with the car feel planted on straight roads. When it comes to corners, as long you are doing sedate speeds, the Slavia reacts well but even then you start to feel the body roll. Hmm…that's not a good sign. When pushed harder, the car seems to fight itself to stay on the desired line. That stiff chassis makes the weight transfer beautifully to the springs, and this is where it kind of falls apart. Initial turn-in is sharp; the trait of the chassis, quick steering, helped by the e-diff. Then, the soft springs squat and makes the car lean on its side a lot more than I would like. And when you feel that it will start to understeer, the e-diff and the ESC hurries it back in line. What makes it even worse is the steering remains numb all the while. At one point it even felt like I might have lifted the inside front wheel. This means that the Slavia never feels cohesive or well-balanced when pushed a bit too hard. As long you drive it at seven-tenths, it will corner well, but ask any more from it, the car won't be too happy. The car has a good mechanical grip from the chassis, but the suspension, along with Ceat tyres doesn't complement it. Eibach and Bilstein will mint money off of enthusiastic Slavia owners. As I write this, Skoda India honcho Zac Hollis has hinted on a RS version of the Slavia. Well, they certainly have the chassis for it and even though changing the suspension alone won't do much for the steering, it will be a step in the right direction.
Verdict? Well, if you are a gen-1 Octy or a gen-2/2.5 Laura/Jetta owner looking to replace your aging car with a VAG under 20 lakh, don't buy the Slavia. Save up, liquidate some assets and get the Octavia. But if you're upgrading from a post-2015 Rapid/Vento, definitely consider the Slavia. If this is your first VAG car, then definitely, most definitely buy the Slavia. Just learn how to live with a DSG, don't be too enthusiastic around corners and you're good to go.
Overall, good car. No, actually, great car. Could've handled better, and could've been more engaging to drive but I'm just glad they decided to build a sedan in this day and age. Drives well, cruises well, rides well enough looks good and returns decent fuel economy.
Technical Specs
Skoda Slavia Style 1.5 DSG
Engine: 1489cc / Inline 4-Cylinder Petrol / Turbocharged
---
Transmission: 7-Speed DQ200 Dual-Clutch Automatic
---
Fuel: Petrol
---
Power: 148bhp @ 5000rpm
---
Torque: 250Nm @ 1600rpm
Pros
Cons
– Smooth and strong engine
– DSG is a gem
– Interiors are well laid out and very spacious

– On the limit handling
– Interior plastic quality
– Climate control interface

TDH Verdict: Stop buying pseudo crossovers-posing-as-SUVs. Get this instead.