Long trips make me reminisce the days when I was younger sitting in the back of my dad's 1999 jeep Cherokee, while it was a great off-roader, it was the single most nauseating car to sit inside, a deadly claustrophobic cabin with boxed, 90° windows that only let sunlight in only when it's sunrise or sunset, an AC motor that was strong enough to cool only the front of the car and torsion beam suspension. Sounds rather unpleasant, doesn't it? You can imagine that this barf machine inclined me to hate the concept of road trips.
However, the moment I got my hands on the brand new BMW 630d Gran Turismo M-sport, it struck me that, if I wanted to do justice to this Uber luxury sedan, it is only right that I keep my problems aside and I take the 6 somewhere far. I craved the sun and the sea but unfortunately,  I had promised to return the car in 2 days and the car wasn't allowed to cross state borders. So Alibaug it was!
What about the looks?
There's no denying that it looks bulbous, and that's because it is. The wheelbase is 95mm longer than a regular 5er tipping the length to just over 5 meters, which by Indian standards, is considered to be a mammoth on wheels, but when it comes to design, the proportions in the 6er are spot on. The front half of the car looks exactly like its younger sedan and the remaining bit now boasts of a notchback design that is now synonymous with the BMW GT formula. The swooped rear makes the 6er look like it's in motion even at a standstill, and the Bernina Gray paint job on this specific car nicely accentuates the creases along with the side profile of the GT.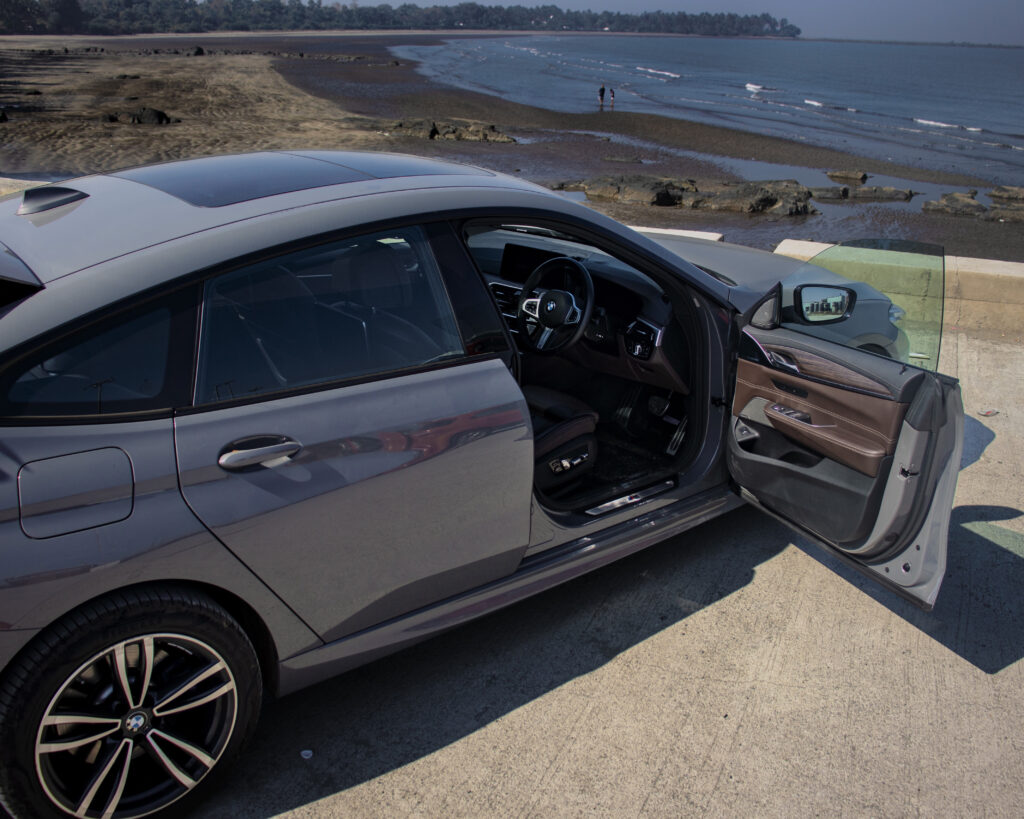 Given that a couple of years ago, the previous generation's GT looked like a pig dragging its behind along the floor leaving 'skid' marks, the new-gen 6GT looks phenomenal now, with slippery, understated, and very well balanced proportions.
How is it on the inside?
Step inside the backseat and the extra 9.5 cm added to the wheelbase is noticeable. The 6er boasts of more knee room than the 5 series and much more headroom from its swept roof, I'm 5'10" and there was enough room over me to fit another head, and if that's not enough the rear seats are recline-able, which let you have even more headroom.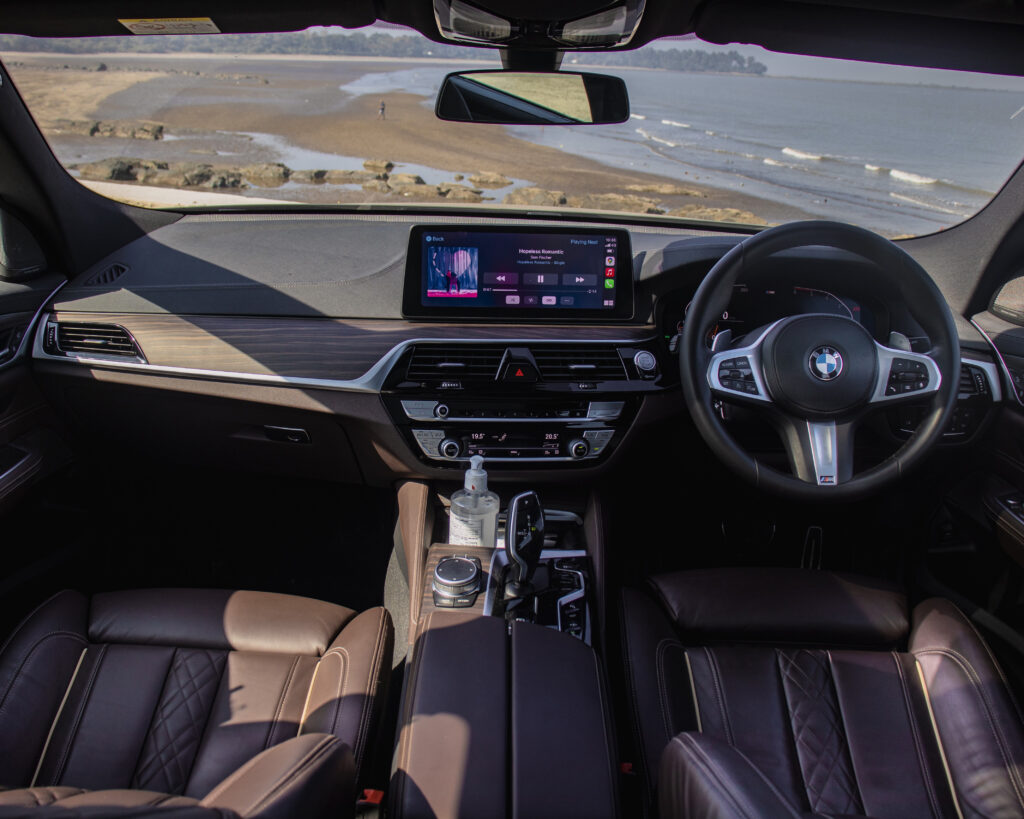 You also get two infotainment touch screens behind the front seats for the rear passengers to allow the rear passengers to go through all of the vehicle information and even change the music and navigation settings or connect to apple car play / android auto.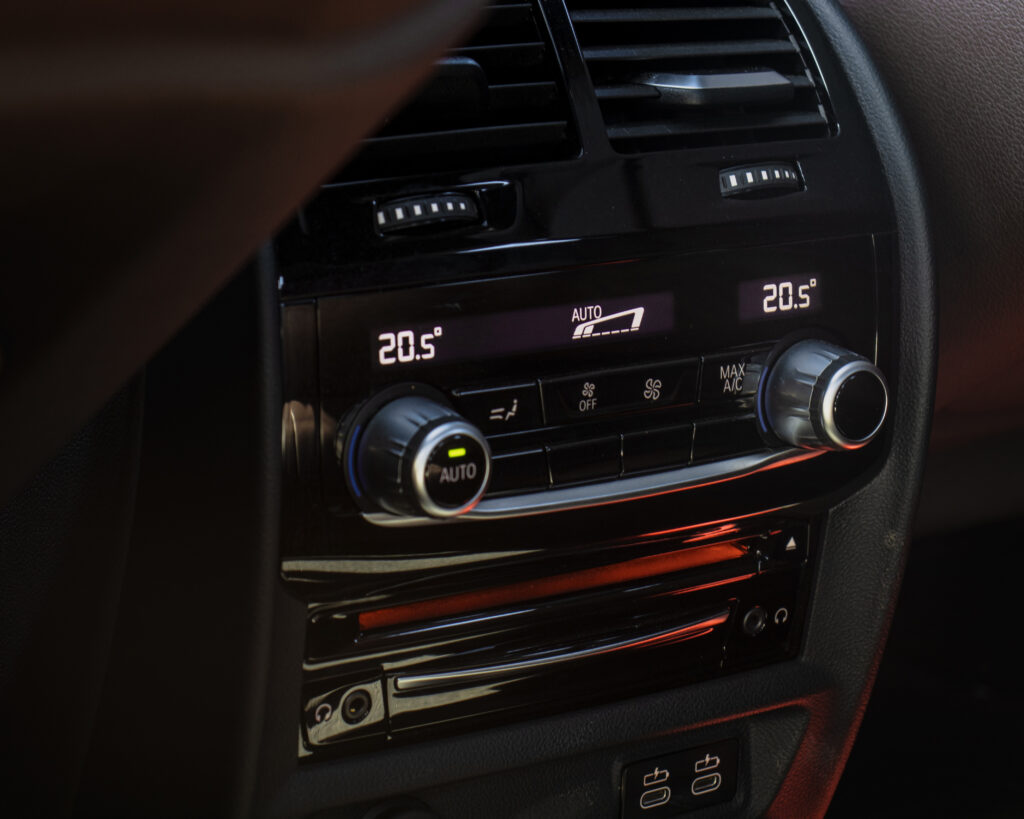 The front is pretty much identical to any other of the BMWs available on sale, however, that's not complaining. You are surrounded by premium materials all over. The soft leather, the open-pored ashwood, and the polished metals, all ooze richness. There are no plastic bits visible apart from the indicator and washer stocks and a small piano-finish panel on the dashboard is not desirable but by no means do they feel cheap. Ambient lighting has a setting for every mood and the sound deadening in the car is spot on. Overall it is a beautiful place to be.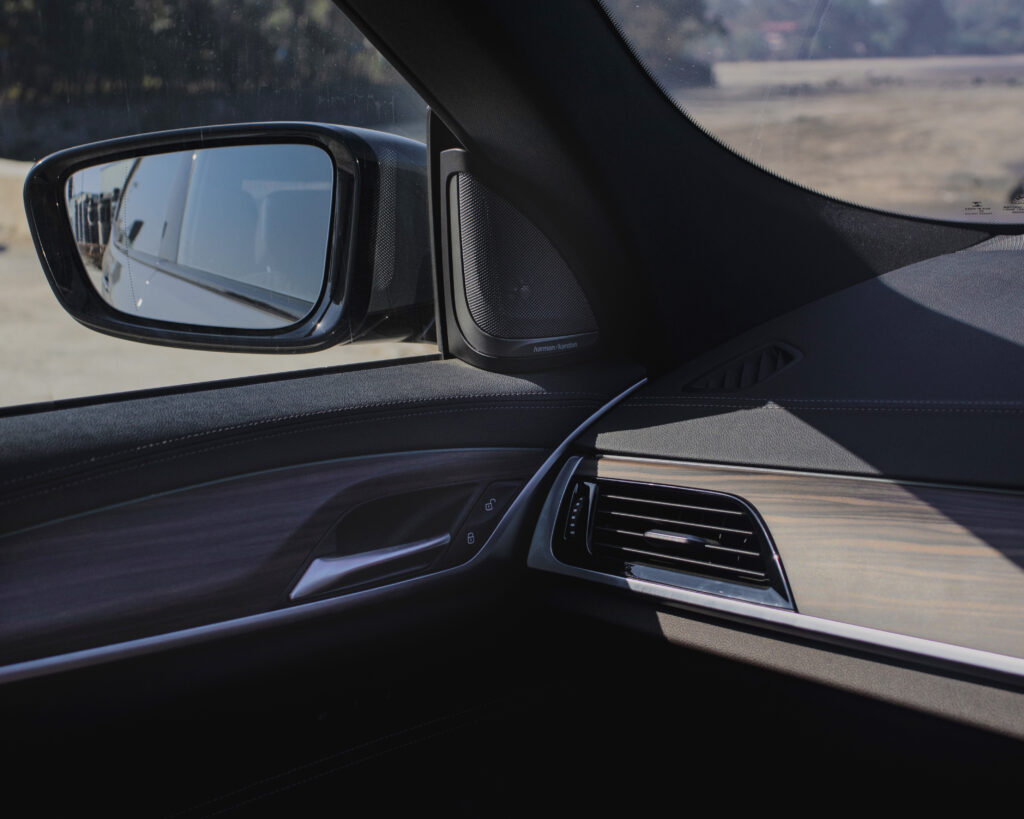 How's it like to drive?
The 630d comes with a 3.0L turbo diesel that churns 261 Bhp and 620 Nm of peak torque which is mated to a ZF 8 speed torque converter. When it comes to driving. the 6 is as drive-able as it gets. Given its big dimensions and kerb weight of nearly 2 tons, it does a fairly good job at transferring all of that weight and translating it to speed. The dollops of torque are delivered as low as 1800 rpm when in need, that's thanks to the turbo spooling very early. In terms of numbers, it doesn't disappoint either. A sprint from a standstill to 100 kph takes 6.1 seconds and all of the go is backed by massive braking power provided by 345 mm slotted discs at the front at 330mm slotted discs at the rear.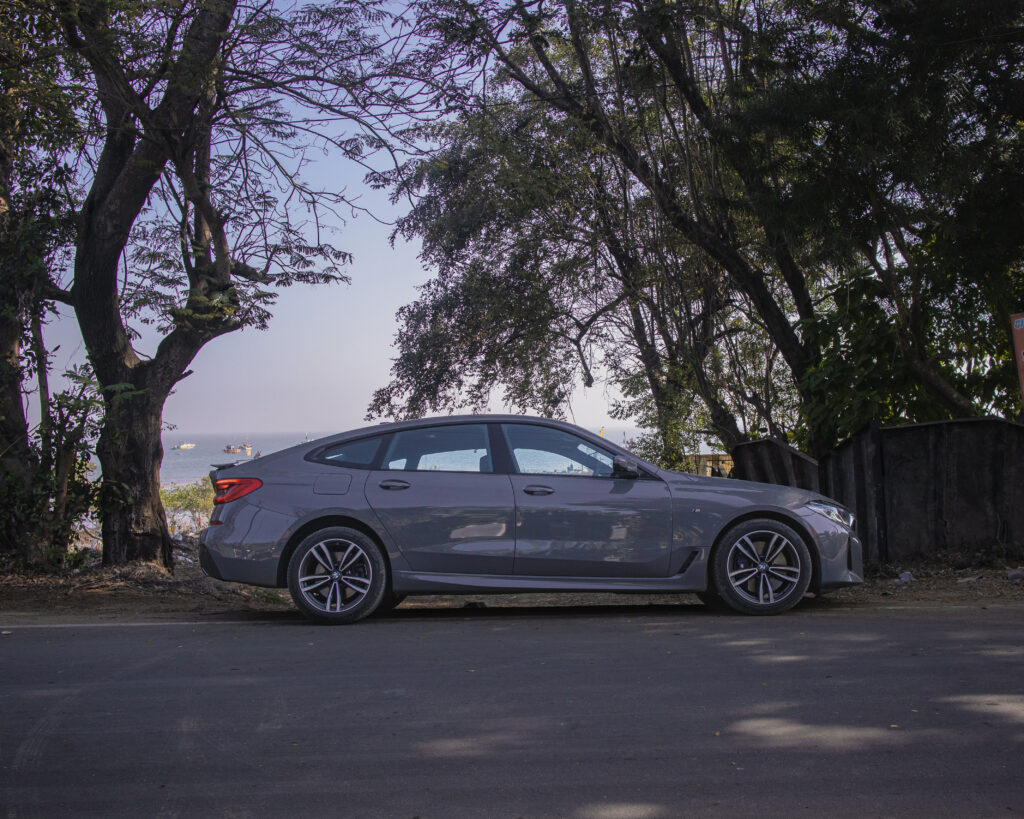 It's only when you encounter a corner you start to uncover its flaws. The air suspension is not sprung for spirited driving at all. The 6 rolls in the corners are like a sumo wrestler chasing an ice skater in a rink with no ice skates. It suffers from some understeer at high speeds but at low speeds, fun is just a boot-stamp away in the 630d. Flick the steering and boot the throttle with all driver assists off and the rear will kick out with no effort and the 6 feels spectacular through a slide.
Should I buy it?
Coming back to grand touring, the air suspension might not be sorted to blister through corners but it's been set up for comfort. Silent, smooth, relaxing comfort. and it shines at it with flying colours. You can spend hours upon hours inside the cabin with enough features to keep you entertained and a ride that is soft enough for you to fall asleep within seconds, this car is a highway muncher. And I for one have fallen in love with its versatility. Bringing the best of comfort and performance in a package that's designed to travel far and wide.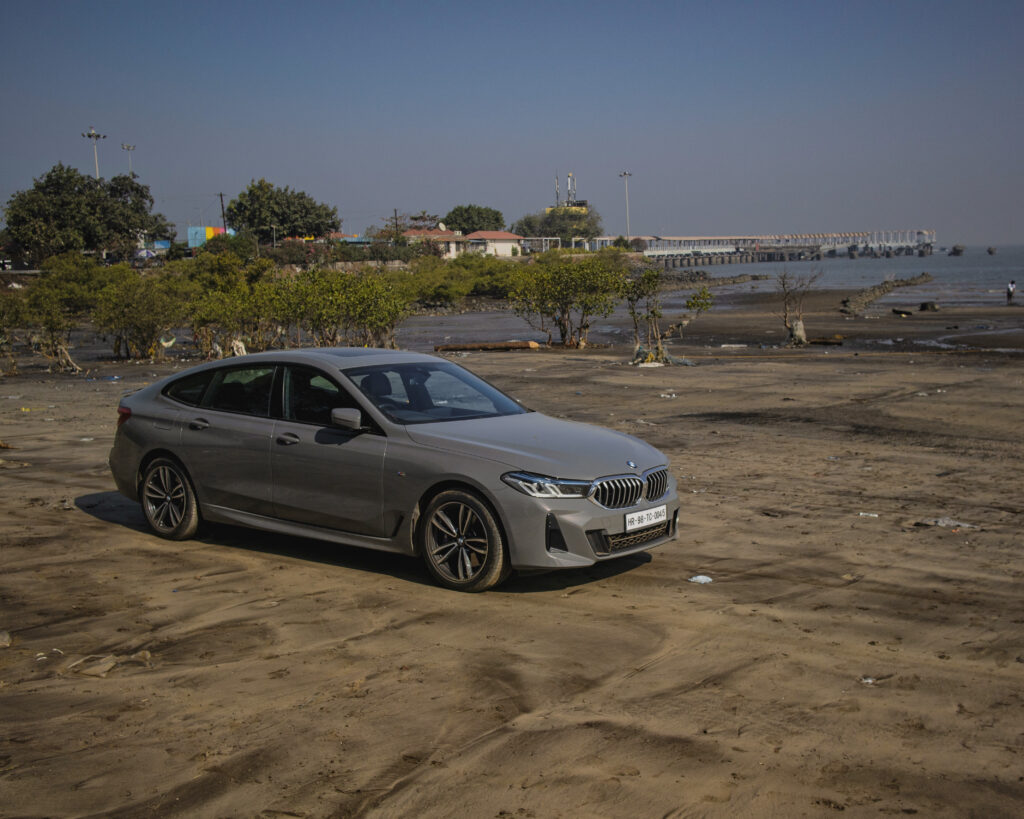 This is the kind of car for the kind that will drive long distances, often. And if you ask me, this does a much better job at it than any SUV at that price range. If you're looking for a grand tourer for your voyages on the road, the 630d m sport is a car to consider. Upon arrival to Alibaug, I felt fresh and relaxed and all my childhood traumas were finally put to rest, which means the 6er delivers exactly what the name suggests, a grand tourer. And a bloody good one.