For years, BMW X5 has been a benchmark for an SUV, a practical daily driver combining the sporty characteristics of the renowned BMW Sports Sedans. Now BMW has launched its facelift which adds significant changes such as a hybrid system in India starting at 93.9 lakhs. Quite why it isn't a 94 lakh SUV is a mystery in itself but let's dive deep into the SUV which is predominantly driven by SoBo Dads and Moms!
Styling is subjective but it plays an important role in showing a reflection of the owner's personality as an extension. It is therefore even harder to shape a boxy file cabinet to be an extension. So how does the facelift work for X5? It does well enough. It isn't the most beautiful, but it is commendable for being an Executive Class SUV. The front gets a redesigned bumper with an optional illuminated grille (only on the X5 40i petrol variant). The lights are now slimmer on the front which gives a sleeker look with BMW signature LED headlights. The profile largely stays the same because it is a refresh and not a replacement with an addition of a different design of 21-inch alloys. The X5 tail lights are also changed for a sleeker vibe which we can't disagree may be a small change but a noticeable one.
The interior also has received changes to make it one of the best places to spend time luxuriously. The X5 now gets the twin screen panel with a 14.9-inch infotainment system running iDrive 8 OS and a 12.3-inch gauge cluster which is fully digital. The X5 also gets a Harmonn Kardon Audio System with a heads-up display on M Sport Trims and ambient lighting. The xLine trims get Sport Seats with heating function while M Sport Trims get Comfort Seats with Ventilation. There is also the offering of driver assistance systems which include cruise control, attention assist, park assist with a 360-degree camera, reverse assist, remote parking via smartphone and drive recording. Safety features include 6 airbags, stability control and more.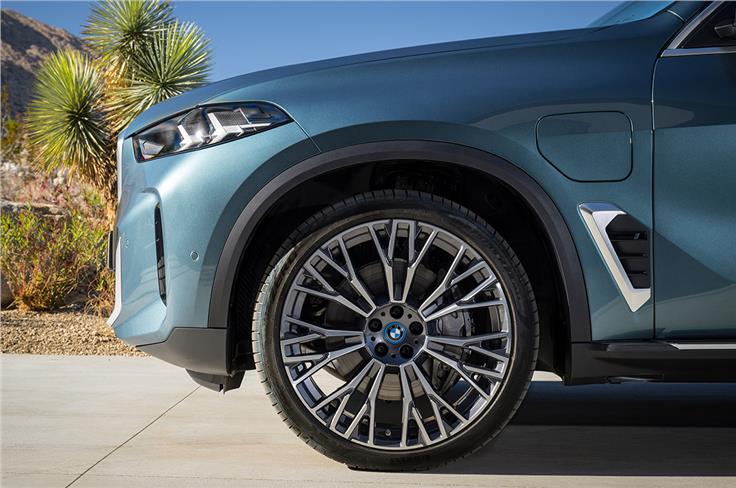 The X5 facelift is now available with petrol and diesel powertrains with the addition of a 48V Mild Hybrid System. The xDrive40i version will get a 3.0 litre straight six which will produce 381hp and 520Nm of torque, while the xDrive30d will get a 3.0 litre straight six producing 286hp and 650Nm of torque. The electric motor produces 12 additional horsepower and 200 Nm of torque powered via an 8-speed Automatic Transmission. The petrol engine manages a 0-100 time of 5.4 seconds whereas the diesel manages 6.1 seconds as well as a top speed of 250 km/h for petrol and 233 km/h for the diesel version.
This offering from BMW rivals the likes of Mercedes GLE, Audi Q7 and Volvo XC90 valiantly with the best middle ground between comfort and sport. As a product, it cannot be bad when you are paying over 90 lakhs. And it is much better than it. A lavish interior with a sleeker exterior does look better and this is one of the better SUVs with a curvy design language. Press drives will be coming sooner than later and it is shaping up to be the best in class.