Making a switch in your ways of life can be hard , like making a coffee person turn to chai, switching from milk to dark chocolate, or instead of the bar, going to gym after work. Just like that us petrol heads have the hard switch that is impending which is electrification , the Tork Kratos R promises to delete the stigma of electrics being boring. I decided to spend a day trying to connect with the Kratos R to see if the future is electric, or are we in for a shock? let me introduce you to the Tork Motors Kratos R. An EV meant for the city stormer built by a that was born with racing blood.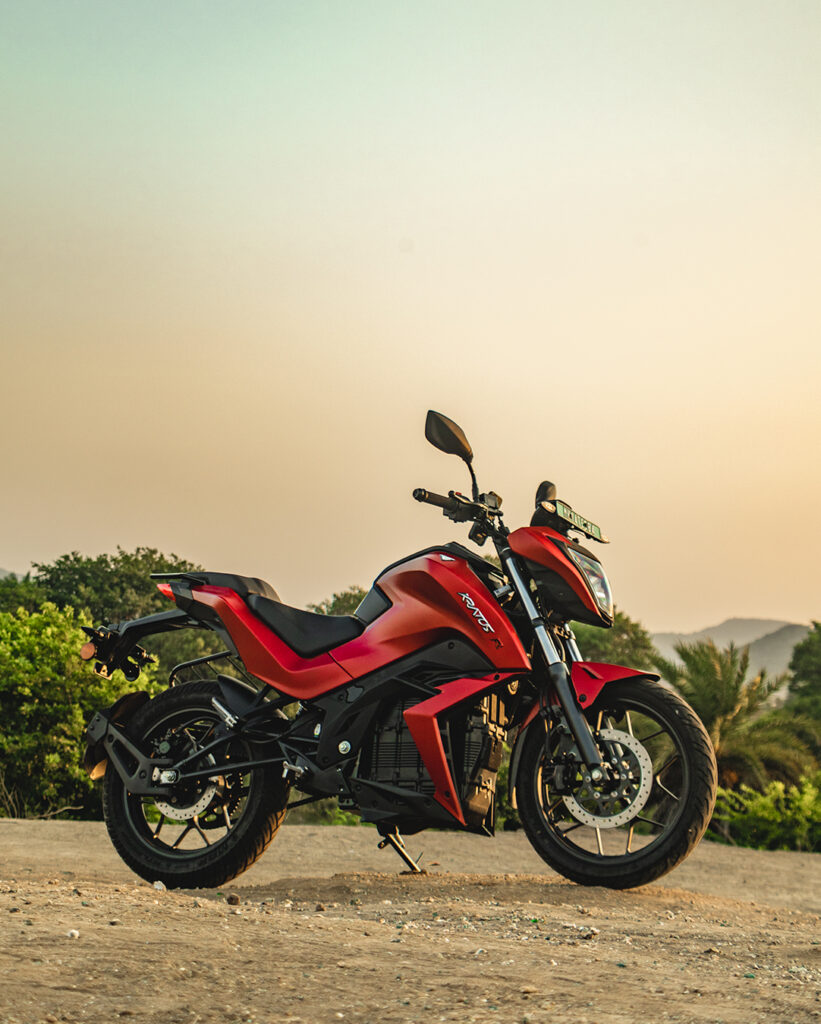 Tork Motors is an Indian electric vehicle (EV) manufacturing company that specialises in the production of electric motorcycles. The company was founded in 2009 by Kapil Shelke, a passionate engineer and entrepreneur with a vision to revolutionise the two-wheeler market in India by introducing high-performance, mass-market electric motorcycles.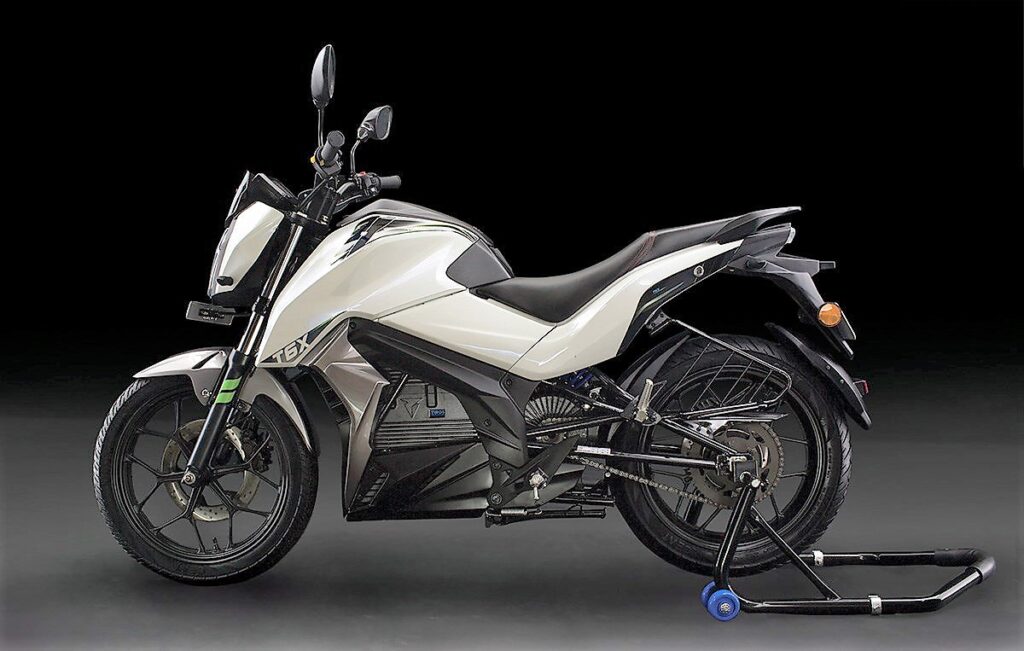 Tork Motors gained significant attention and recognition when they unveiled their prototype product, the Tork T6X, in 2016. The T6X was an all-electric motorcycle designed to offer an exhilarating riding experience while being environmentally friendly. It featured an impressive top speed of 100 km/h and a range of approximately 100 kilometers (62 miles) on a single charge, making it suitable for both urban commuting and longer rides. The kratos R comes with similar performance , Tork Motors has also found a place in racing. The T1X was the first Asian electric motorcycle to compete in the Isle of Man Electric GP, winning the third position in 2009 and winning the first place in Isle of Man TT in 2010. Recently, the company saw investment from Ratan Tata and it has also been covered under the FAME-II Central subsidy scheme, which proposes to promote EV technology in India.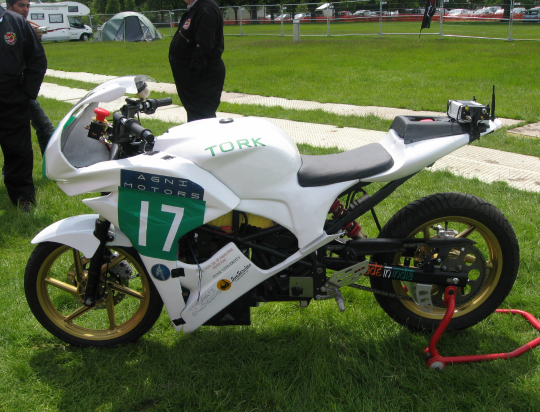 But what we got out of the production line was called the Kratos R, which maintains most of the design cues we got to see In the T6X. With an aggressive front end, striking LED headlights and side fairing that look like the letter R . An electric battery pack that resembles an engine block. And a tank design that's muscular like a street fighter.
In my interactions with the boss of this company, it became very apparent that he is a fan of riding and competition. So best believe the bike was designed to feel like a hoot In the city. And let me tell you, Mr Shelke knows how to make a chassis. But he wanted it to be affordable for everyone to be able to make the switch to electric, he wanted to capture a different market, so the mill is a pretty modest one when it comes to power but it is cutting edge like no other.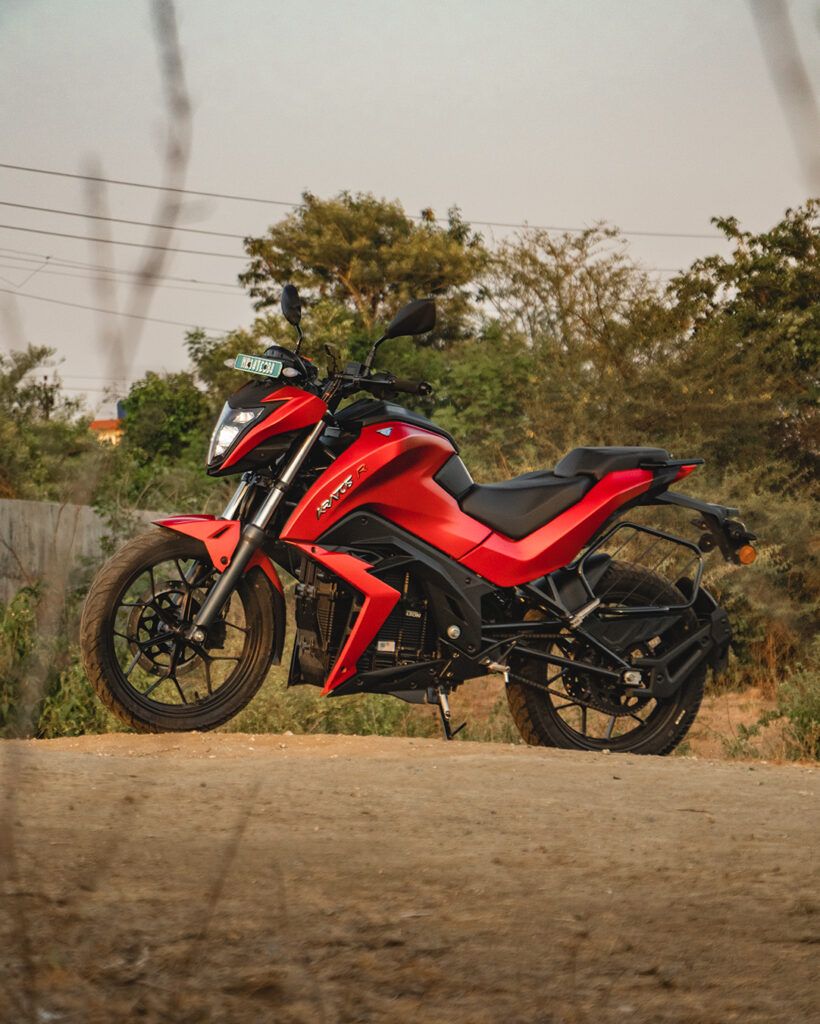 Talking about the motor powering the Kratos R, it is an axial flux permanent magnet motor that can provide you with 4 Kw and 38nm of torque, the best thing about an axial flux motor compared to a radial flux engine is that it has a shorter and more direct flux path which means you can create more power consistently in a smaller package. It even increases its flux efficiency by a whopping 90%! Keeping in mind that this bike is meant to be a commuter for intra-city activities , the 105 km range should be more than enough for you on the daily basis. And the 38nm of torque and 105 kmh top speed in theory should be more than enough oomph to overtake through city traffic. But how is it as an experience to ride a non-geared, electric , commuter bike with its roots set at the Isle of Man TT?
The Kratos R is a super comfy bike with its front telescopic fork and monoshock at the rear. Plus, it may sound like sacrilege for a lot of purists, but I enjoyed the lack of sound & vibrations, especially on an early day like today to work. It felt calm and soothing. The Kratos has a on-board cluster which shows you all the basics like your speed, battery, range etc, but Tork has also introduced the "Tork" app, which basically connects your phone to the bike and your phone can display the same information but in better graphics! Moreover, you don't have to worry as to where to keep your phone because the Kratos comes with a mobile holder out of the box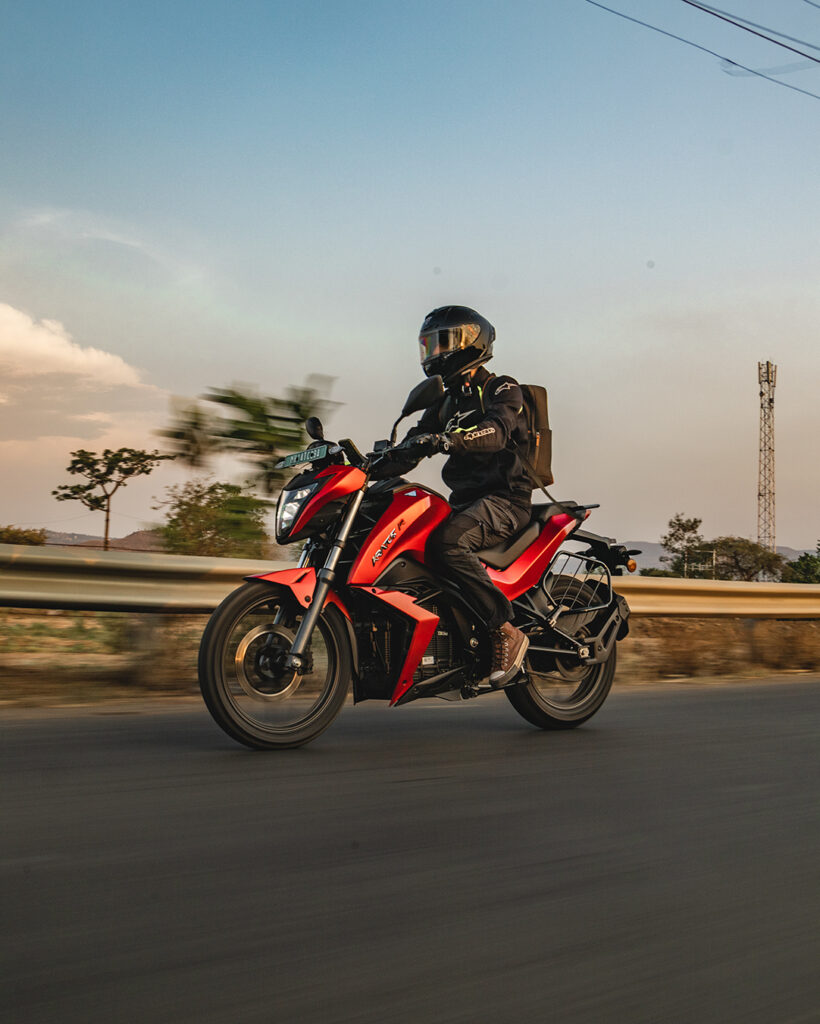 Come to the ergonomics and the rider's triangle is really interesting, your arms and shoulders move ahead but not far enough to add strain to your back and wrists. the seat leans you slightly forward towards the handlebars and the lower half of your body is slightly rear set making it a joy to attack corners with your knees out.
The Tork Motors Kratos R comes equipped with a 9KwH Battery which produces 28Nm of torque. And just like all EVs, the best part is, the power delivery is instant. As soon as you twist the accelerator, the Kratos R picks up and goes. The Kratos R comes equipped with multiple riding modes, City, Eco & Sport. Pretty self explanatory, City is optimised for City riding, maintain battery range but still deploys enough power for those quick bursts of acceleration you need to overtake, Eco only focuses on maintaining the charge and in this mode, the Kratos R can extract a range of roughly 120kms. But once you put it into sport, the Kratos R's accelerator becomes a scalpel. In this mode, the Kratos R can achieve a top speed of 100kph and accelerates like no other bike in the same price point. Moreover, the history, heritage and motorsport DNA of Tork Motors can be felt once you are in the twisties, the bike is agile, sharp and responds to all of your inputs diligently.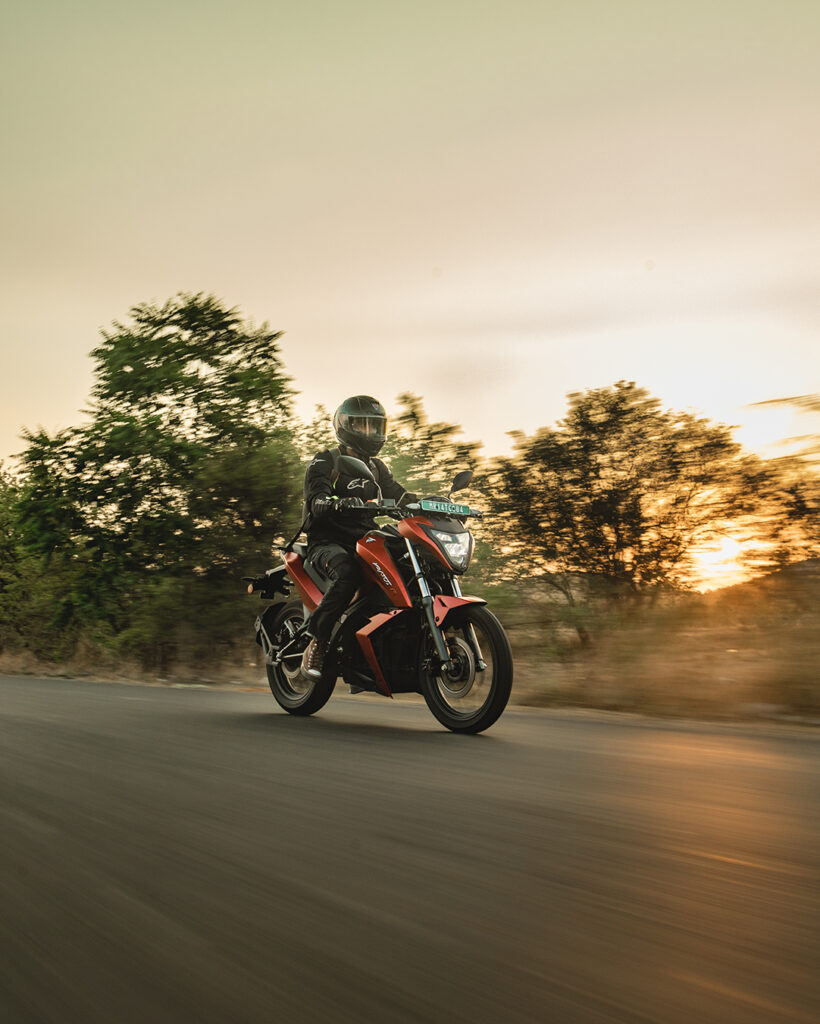 EVs are usually criticised to be heavy vehicles, but the Kratos R with all of its battery tech only weighs in at 140KGS! The brakes are also impressive and are regenerative too which lets you maintain the battery range even further. The front is equipped with 267mm disc and the rear with a 220mm. What excites us even more is that, Tork is working on a crazier version of the Kratos R, called the Kratos X. Rumoured to be even quicker and even more fun to ride. The Kratos X will be something that will targeted solely to the enthusiast and that is something we will be looking out for!
The Kratos R comes with a home charger. Before you get the delivery of the motorcycle our team will get in touch with you and set up the required infrastructure at your home. The Kratos R has fast charging capabilities and hence you can plug into any of our public charging stations that are discoverable and accessible through the TORK app. We aim to ensure that you are never more than 5km away from a charging station in your city.
The motorcycle battery consumes 4 units of electricity for full charge from 0-100%. If your per unit electricity cost is ₹7, charging cost from 0-100% = 4×7 = ₹28
It takes between 4 to 5 hours for full charge by a home charger. The Kratos R comes with fast charging support which can be charged up to 80% in 1 hour.
Overall, the Tork Motors Kratos R is a great option if you're in the market for a motorcycle that lets you have fun on the way to work, without making any noise; you're also doing a favour to the environment as well as your pocket in the long game. Having a motorcycle that bridges the gap between cutting-edge and budget friendly certainly seems like a formula for success! And as for my day, I was pleasantly surprised by the Kratos R's chassis and its dynamics compared to other EVs in the segment, and I would be lying if I didn't say I didn't enjoy my day with the Kratos R.