We at The Driver's Hub love the Skoda Laura. We have made so many videos talking about different types of tunes on a Laura. Whether it be a Stage 2 setup or a stage 3 K04 Turbo. The latter has the potential to produce some serious power. For reference, a Focus RS used to make 350 HP and that was a 35 lakh worth All-wheel-drive Hyper Hatch. We are talking about similar performance for more than half that. Value for money is an insane thing you get when you buy a stock used Laura especially when most cars are listed at an astronomically low 2 to 4 lakhs
But it was not always like that, it originally came to the Indian Market as a Midsize Luxury Sedan and also a reason for the whole of the VAG group to take up Marriage Counselling. When it got cheaper, it got into the hands of multiple well-renowned tuners and boy racers who were able to unlock the potential of this beast that was hiding. What was a luxury sedan could've very easily been a Touring Car Replica DTM Spec for the road.
If we talk about the exterior it isn't the most charitable aspect of the car as its competitors i.e Honda Civic look better. Watch our video comparing the Civic and Laura to learn more. Still, it is a wolf in sheep's clothing as it looks sharp but not unique enough. This gives it an underground Takumi Fujiwara's AE86 Vibe to it, a Czech Corolla if you will. Under the hood, you find that beast in stock form producing 160hp and 250 Nm of torque. It can be said that the power figures in isolation are enough to give you a wet dream. The turbo kick means you get usable power in the lower revs and that kick on the backside in upper RPMs. On the inside, you will find generally the best interior available for the 2009-13 era. A whole host of buttons and switches, which I like, with little in terms of Technological Amenities like navigation or Bluetooth. But these are resolvable issues as Infotainment Systems are plentiful in the market, which comes with Apple CarPlay, Android Auto, and an intuitive phone-like Interface.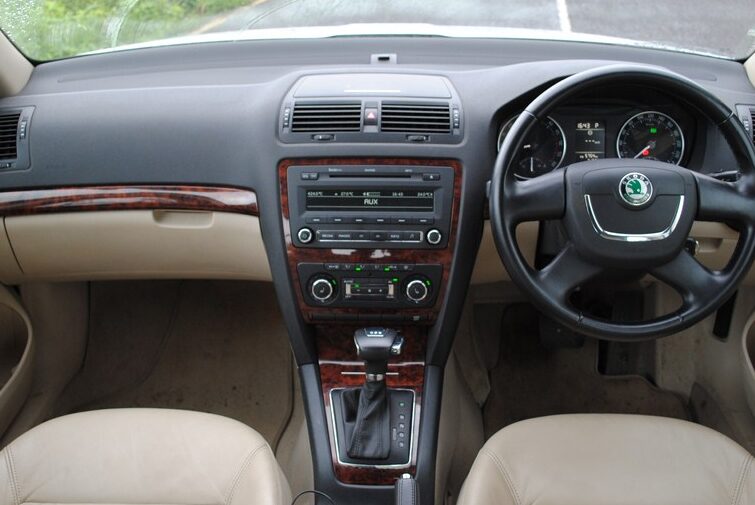 The influential trait of a Skoda Laura is the way it drives. even in the stock form, it is an absolute riot and as a platform, brilliant to learn how to drive fast. The six-speed manual is key in making it fun as the shifts are smooth and the clutch is linear but heavy. The steering wheel even though not the most communicative still is very precise.
The crème de la crème aspect of the Laura is the tuning potential. We know we may be taking home the point but the Laura is a perfect starter kit to learn how to tune. For as little as 10 or 12 lakhs you can get a large turbo producing over 300hp, Cold air intake, and an extremely versatile ECU which if modded correctly with the clutch beefed up can produce well over 600hp. Speaking of wrong things, coilovers, and damper kits are available in bulk to give you better handling Laura. Recently, a tuning company had also successfully AWD swapped a Laura. When we talk about versatility this is what we mean. It is also worth noting that because the new Virtus' 1.5 TSI engine ECU is locked and is exclusively made for Asian Car Market, Laura suddenly appears to be a lot more compelling option at least for now for a lot less. But what should be mentioned is that Virtus will try to fill in the shoes of Laura but it is yet to be seen how it may perform. Just so you know, adding 300+ horsepower causes a Front Wheel Drive car to produce a Torque Steer feeling where the steering does not know what to do so it swivels in every single direction to Navigate. A car of that power should have Front Limited Slip Differential and software to limit wheel spin and characteristic understeering tendencies. Thankfully these Differentials are available in bulk and you can choose according to your whims and fancies.
By any chance, if you are looking for a perfect Laura that is lightly tuned and tastefully modded, then Surprise Surprise! We have one in stock. This Laura is a bit special as it belongs to the head honcho of TheDriversHub Soham Saraf so you can trust it has been waxed with a Diaper and kept like a Garage Queen. Jokes Aside, multiple videos show what he has done to the car so you don't need to worry about the car's condition. The list of mods includes Pipercross Carbon Fibre Intake, Audi R8 Ignition Coils, VRS Spoiler, Audi RS3 Wheels 17″, Continental Sport Contact 5 Tyres, IES Performance Turboback Exhaust, Autodisir Performance Stage 2 Tune, Meyle Dampers, Cobra 30mm Lowering Springs, Brembo Ceramic Pads. All in all, this is tastefully modded with 235hp and it can be yours for a reasonable 8 lakh rupees. Remember you will be enabling us to buy a new project car and produce better than ever content! Check out the listing!