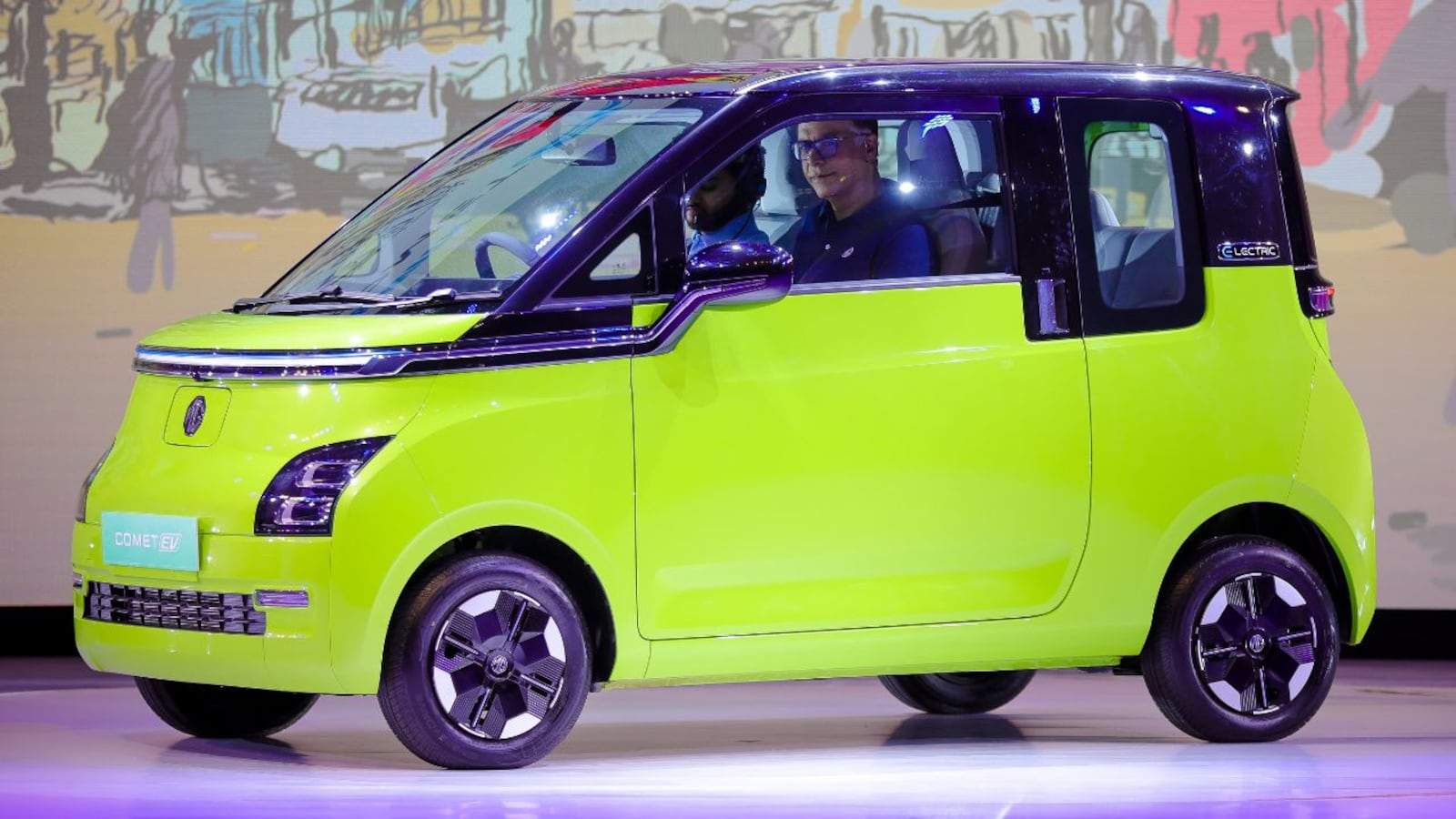 We wish our city commutes should be so much better. Be real for a second, the gas guzzlers of today are of no use if your pockets don't run deep be it a Tuned Skoda Laura or a Bentley Continental GT. Expensive Fuel, Road Tax, Big Size etc. Sure they are good on a backroad or a free highway but those roads don't come your way generally until you actively look for them. What if we told you MG has the solution to all these problems? You'll say "Oh bugger off they are stuck making better tablets than their cars". But I would argue that MG Comet may solve all the city's problems.
The highlight of this car is the size and form factor. It is Tiny! It is even smaller as compared to even a Tata Nano. A car similar to an MG Comet is a Smart Fortwo. This form factor helps these cars to navigate through the rush a lot easier than an SUV or a sedan. But this is a relatively new form factor so it does have a few shortcomings
One of them is styling. MG Comet is a very unique-looking car and it attracts attention. This may not be good for people who like under-the-radar cars as most reactions showed even luxury car owners being curious about the cute comet. This exterior certainly is unique and differentiates itself well from other cars of similar size like the Smart Fortwo which isn't sold in India or Honda E which isn't sold in India or the now discontinued Tata Nano. You notice most of these cars are dead or aren't sold here so it will be a tough ask to convince people to buy a 3-door small box. The front is covered with plastic panels. There are spots for cameras and ADAS but these crucial features which will come in handy aren't there in the surprising first place. Moreover, you cannot even charge it fast. You can only charge it in the home which will take 7 hours.
On the inside, the interior is very good for a relatively affordable hatchback. The switchgear is finished in silver which feels very good to touch when you're adjusting climate control. The 2 10.25-inch screens reminiscent of the S Class have some cool graphics. Although the centre screen can be more responsive. Still, wireless Apple car play is at 8 lakhs. Good Effort! In addition to that the front dashboard is finished in soft-touch plastic and fabric which looks nice and dresses up a car which would've skipped it. thanks to a lack of gears and a drivetrain the front floors are fully available to both occupants. So you can as a passenger press brake or accelerator while the driver steers. Although the lack of seat height is visible. The rear surprisingly does fit 2 people well and it is overall a very airy interior
Talking about driving, ergonomically it is no enthusiast pleaser as the steering is over-assisted like those 70s Cadillacs and Buicks. You can turn the wheel and take a U-turn with a finger. The wheels are 12 inches big, making the ride a little bit harsher over bad roads. In terms of what powers it, it is a 17.3 KwH engine which produces 42hp. For that, it gives acceptable pickup.
The boot space is however non-existent only good for a handbag. But to recharge it can only cost Rs 136 and the projected range of 250km which will be 160km realistically is better than you may think.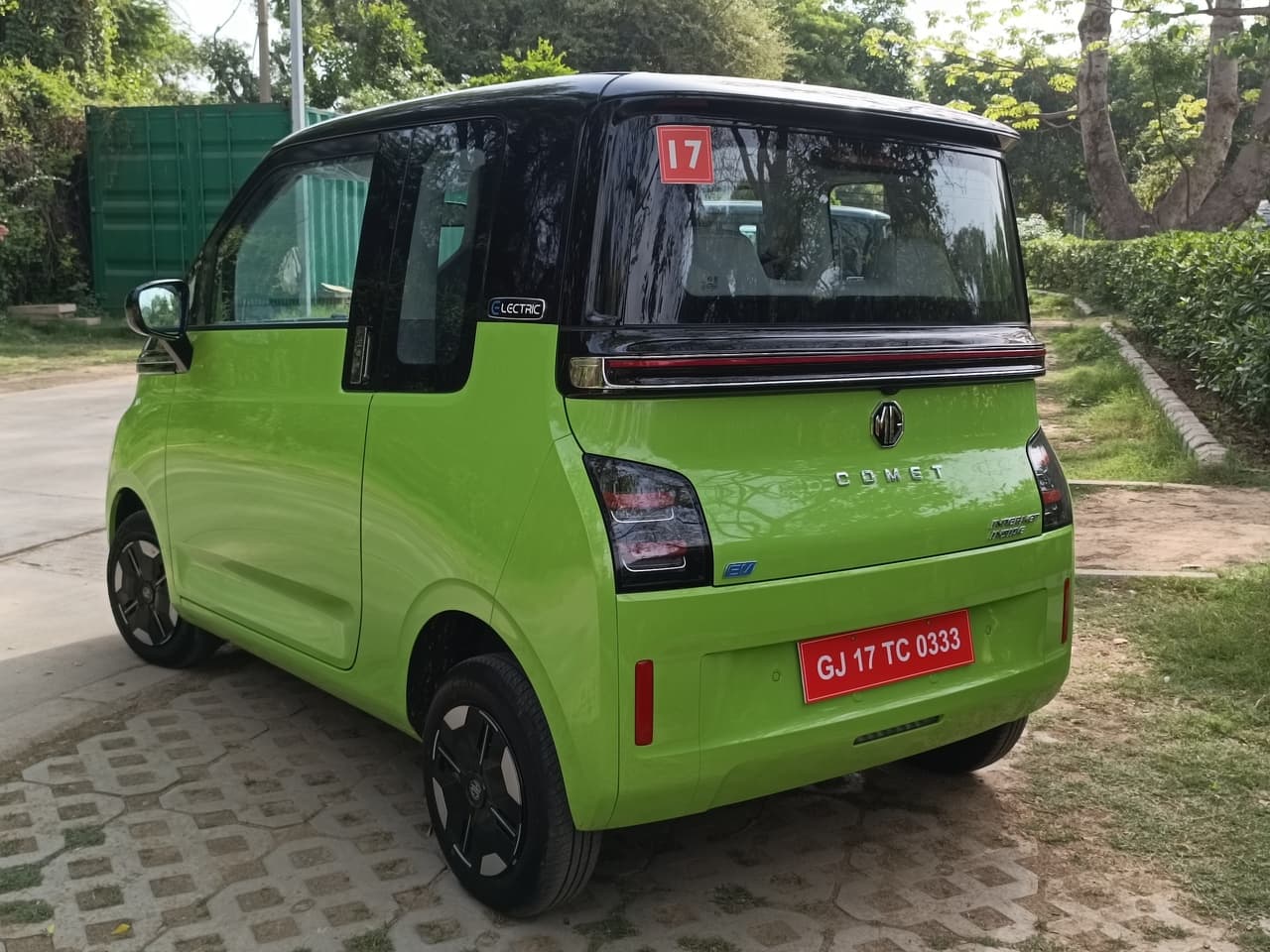 But the big part is the price tag. Sure an EV may be cheap but for a car which is priced at 8 lakhs to 10 lakhs it is not a cheap car and we just hope it doesn't go the Tata Nano Route as people don't need status reminders as they buy city commuters. For this price cars like Tata Tiago EV, Pretty much all Renaults are readily available. So it is a very expensive one at that offering lower space in a challenging EV infrastructure scenario. It is debatable whether it is a good buy at this stage but it is a form factor we can't wait for MG to develop a second generation. And like a smart cross blade, we would love it if they did some special editions and priced it accordingly. One thing can be said at the end, it will certainly make your weekend toy feel a lot more special as you row through gears and hear that engine sound whenever you get time!