Skoda brought many cars into our domestic market and most of them exceeded expectations. One such compact SUV or rather a car-like SUV is the 'Yeti'. The car was one of the first good compact SUVs on offer. Yet the sales say a different thing. Why did Yeti fail? Is it any good as a project? What's it like to drive? If these questions keep you up at night, The Driver's Hub has got you covered! We take a deep dive into everything you need to know about the Yeti. 
The Skoda Yeti was one of the most potent premium crossovers in our market. It had a very short stint in the Indian market, but gained popularity among those car buyers who were looking for a premium SUV which didn't feel as bulky. The Skoda didn't qualify as a hardcore off-roader, but could easily tackle pretty much any challenging terrain you encounter on daily basis. Just to refresh our memories, let's just talk about what it offered as a car.
The first impressions of the yeti were good overall since the beginning, it looks big, just as any Indian would like their car to be. However, that's your eyes playing a trick on you. You see, Skoda has given this car a length of just 4.2 metres. As a result, squeezing into tight parking spaces is no sweat at all. Visibility from the driver's seat is excellent, the parking sensors do a stellar job and there's plenty of articulation in the front wheels too.
The Yeti is built on the same platform as the Skoda Laura (code PQ35), and that for a start, means it has a highly sophisticated all-independent suspension. The SUV, however, uses a full-time four-wheel-drive system. Under normal conditions, it all but functions like a front-wheel-drive car. Up to 95 per cent of its power is sent to the front wheels, with more power only sent to the rear wheels if any slip is detected. Up to 90 per cent of the power can be sent to the rear wheels if the need arises, and it has a limited-slip differential as well, something that is very handy in slushy conditions. The two-litre common-rail diesel and the six-speed manual gearbox are well up to the task in the city too.
This 140 BHP motor is the same as the one that powers the Laura Tdi and that gives it a very impressive turn of foot. There is only the slightest hint of lag from this motor, after which you are smoothly and briskly whooshed up to much higher speeds with a very pleasant slug of torque that stretches well into the midrange. However, while the motor spins slightly past 5000rpm (high for a diesel) you only want to pull it so hard if you're trying to extract maximum power and acceleration. It feels a bit strained spinning at that speed and this means, it's best to short-shift. Flat-out acceleration as a result is more impressive than outstanding and 0-100kph and 0-150 come up in 11.2 and 28.4 seconds respectively. 
Now talking about the meat of the matter, the elephant in the room, the tuning capability of the 2.0 TDI block. If you're a keen viewer of our channel you must've seen us review a fair amount of 2.0 TDI-powered cars, that have been built to pretty impressive torque figures. with simple upgrades like an air intake and a downpipe, the 2.0 TDI can easily push over 400nm of torque. Add an upgraded snail to the party and you've got yourself a 500nm monster. Additionally, the Yeti was available with a manual transmission, which means you need not live in fear of the day your gearbox gives up on you. Upgraded flywheels are common and easily available for the VAG manual 5-speed, alleviating any problems you would be concerned about when it comes to handling the newly added grunt.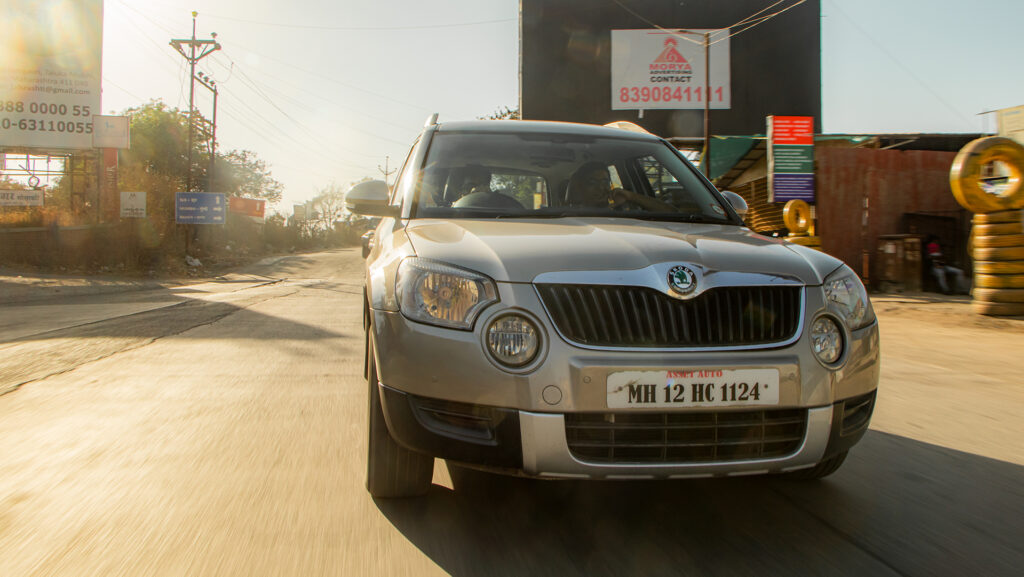 For rear passenger space, Skoda has taken a leaf from 'tall boy' hatchbacks and has used vertical space to very good effect. Using the adjustable seating, you can slide the rear seats back and fit one six-footer comfortably behind another. Taking a look at the sculpted seats of the rear bench (about 18" wide each), you'd think that they were designed for a 15 yr old, however, once you get in they do not constrict you in any way. This isn't a plush sofa-like rear seat, but similar to the front, they provide good support. The middle seat also flips forward to reveal a large armrest with cup holders, however, the elbow area is too low to provide any real support. The cushioned forearm pads are fairly small – leaving you exposed to the surrounding hard black plastic from the seat-back.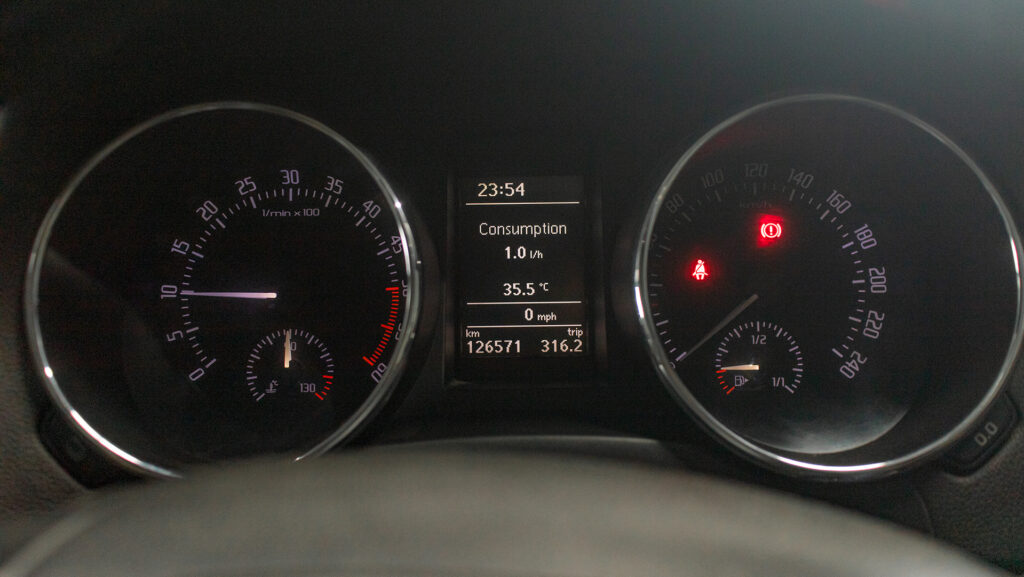 Interior quality is equivalent to the 30 lakh rupee Germans that were available in the market back when this was launched. Everything in the interior has a high-quality and solid feel to it. There isn't a single rough edge, ugly parting line or hint of poor craftsmanship. The dash top is soft-touch, every button feels good to use, the soft door armrests, the rich texture of the roof lining, and the rubber-lined cubby holes. Even the horn boss pad has a soft feel to it. There's tons of storage space with an armrest storage compartment, a dash-top covered tray, an in-dash cubby hole, an under-seat tray and a series of 3 fused together cup holders that will most likely be home to your cell phone since even a 500-ml bottle can't really fit in them. But overall the inside is super Laura-like. This is essentially how they were able to undercut the competition in its segment by a fat chunk, by being able to use the PQ35 parts bin and create a car that would be premium but for less. but that doesn't mean it's a bad place to be at all.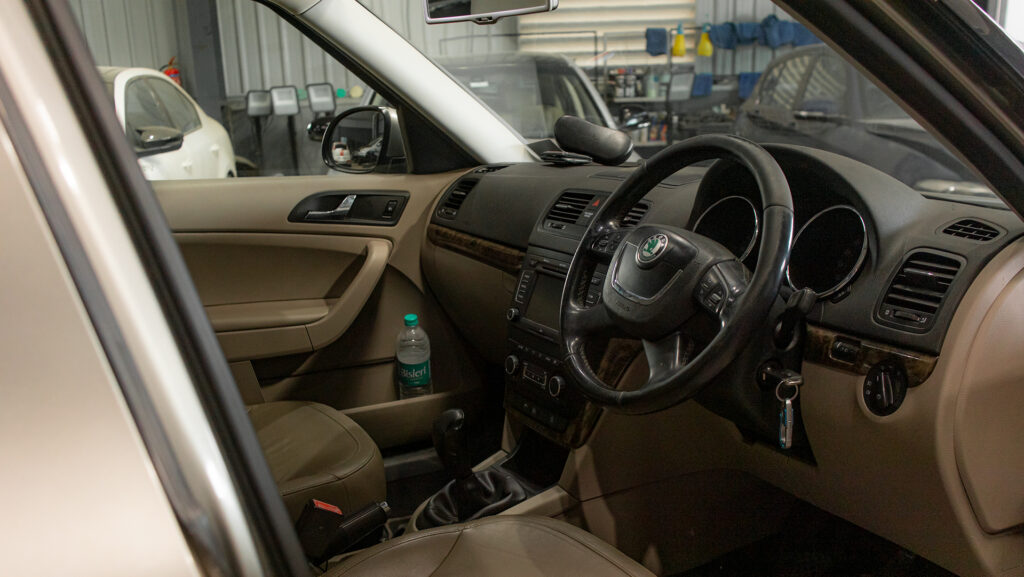 The second-hand market is a tricky one, the hard part is always finding a clean car. And by clean we mean mechanically. Now, while it might be very difficult for an untrained eye to detect, there are some common signs you could definitely look out for. If you are going in for a pre-owned Yeti, this is what you need to check:
Water pump. Check if it has been changed before. If it hasn't, be mentally prepared that it might fail. Replacement cost is rather low if the leak is caught on time. It's a bit more expensive if it damages the timing kit too
Differential oil- Check if the differential oil has been changed in case you come across a 4×4 variant according to the prescribed intervals.
Instrument cluster flickering – This is a problem exclusive to some Škodas such as the Yeti and Laura. The instrument cluster backlighting tends to flicker and conk off in certain cars. The only solution according to the company is to get the whole cluster changed which is an expensive affair (though I am sure there is another way out).
Gearbox mount – Check for abnormal noises from the suspension. Also, check for any metallic clanging noises from the front left when you take tall speed breakers or go through potholes. That Points to a worn-out gearbox mount.
Wheel speed sensors – Check for ESP, ABS and power steering warning lights on the instrument cluster. Points to bad wheel speed sensors or even bad wheel bearings in the worst case.
The Yeti is still a classic in our opinion. I Would have picked it up as an impulsive buyback in 2012 had it not been for the pricing and the space on offer and also that I was 10 years old, but now thinking about it, this could very well be a fantastic build for someone who wants to go fast over rough terrain, or even someone who just has the need of a comfy capable SUV that doesn't break your bank. It's a shame the yeti was discontinued in India to make place for the Kodiaq, what are your thoughts on the yeti? and did Skoda shoot themselves by stopping the yeti? Want to know more? Check out our feature review on the Yeti!